Categories >
Guides and Tips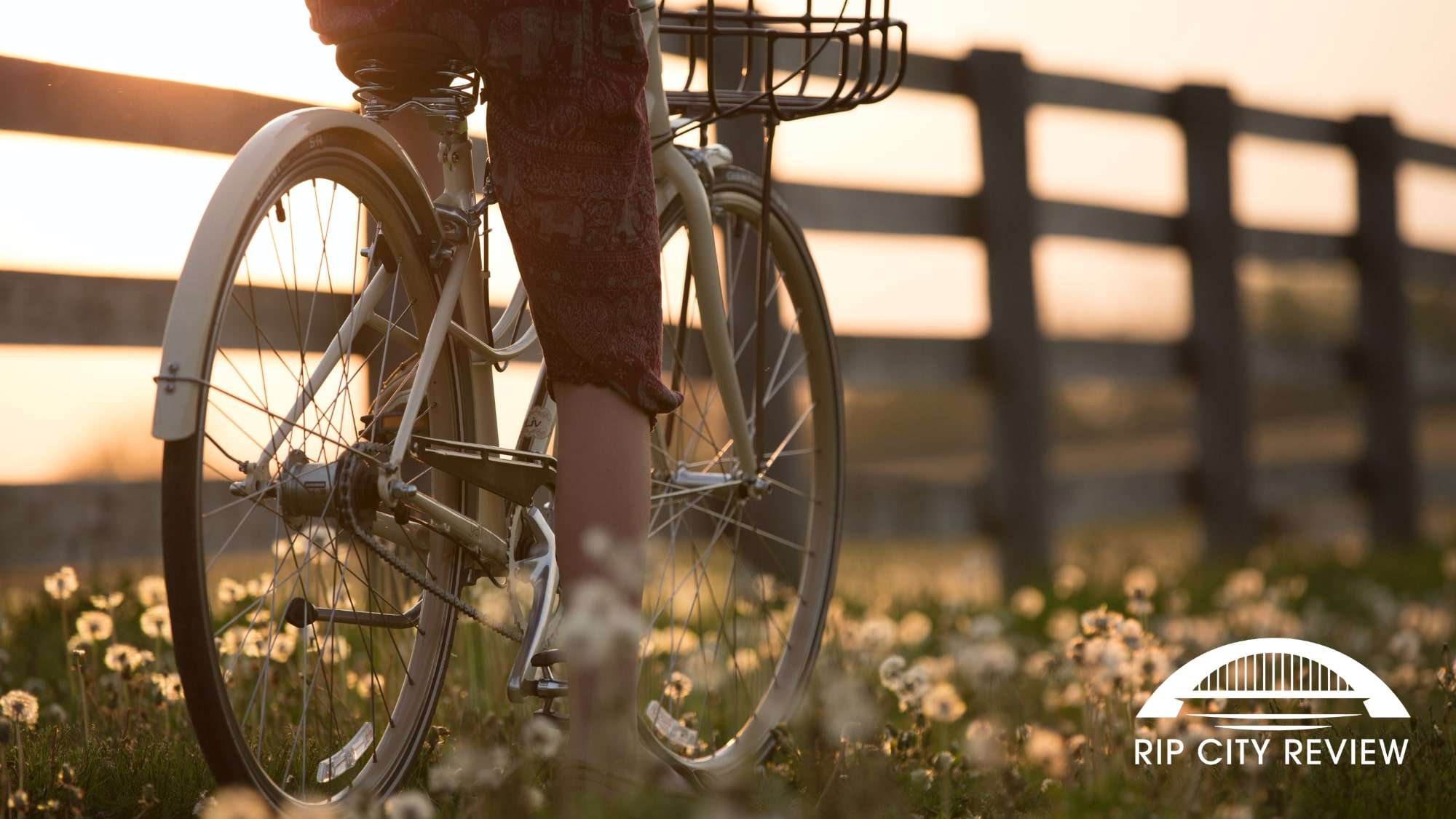 A Complete Guide to Biking in Portland
One of the best things about living in Portland is that there's no shortage of convenient bike lanes and paths in the city. That's why biking is one of the most popular ways to get around here.
Moreover, you don't have to be a skilled cyclist to bike around safely. This is because our streets are friendly even for beginner bikers.
Thinking of hopping on one to explore the city? As it happens, we've prepared the complete guide to get you all set for biking in Portland!
Is Portland good for biking?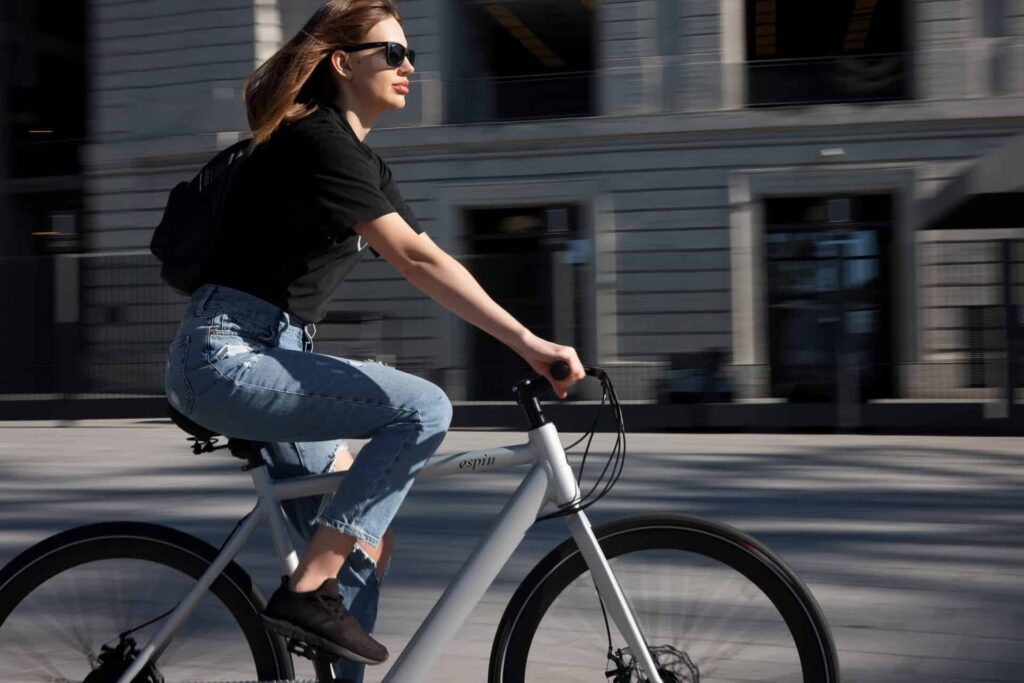 Yes, Portland is good for biking. There are about 400 miles of bikeways and an abundance of beginner-friendly biking paths in the city.
Furthermore, Portland was given the highest rating by the League of American Bicyclists as a bike-friendly city for years.
About 6% of Portland's population also commute by bike, according to the Portland Bureau of Transportation. That's one of the highest percentages of biking commuters for US cities. 
If you're still worried about biking on the road with cars, by the way, note that there are about 35.5 miles of bikeways that split up bikes and vehicles here. This means you don't have to fight over road space with automobiles, which could lead to unfortunate accidents. 
What are the biking laws in Portland?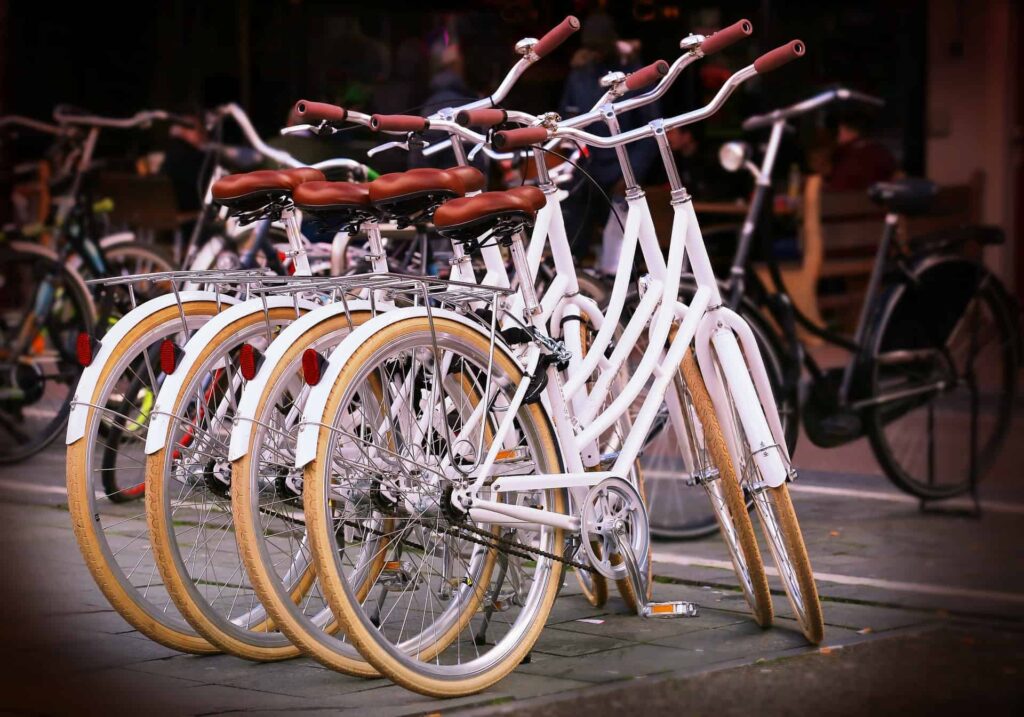 Bikes in Portland are considered vehicles so bikers are expected to follow almost the same laws as those driving a car. Here are the most important Portland biking laws that one should keep in mind at all times:
You should always signal your turns by pointing with your hand to the direction you intend to turn.
People riding the bikes should keep right. Use the bike lane on the road if there's one present.
You can use sidewalks when you're riding your bike except in downtown Portland.
You should yield to pedestrians. Make sure to use hand signals to those behind you to indicate that you're planning on stopping.
Those who are under 16 are required by law to keep a helmet on at all times when riding the bike.
Be careful of car doors. It's best if you allot space between your bike and vehicles just for them.
What are the top biking events in Portland?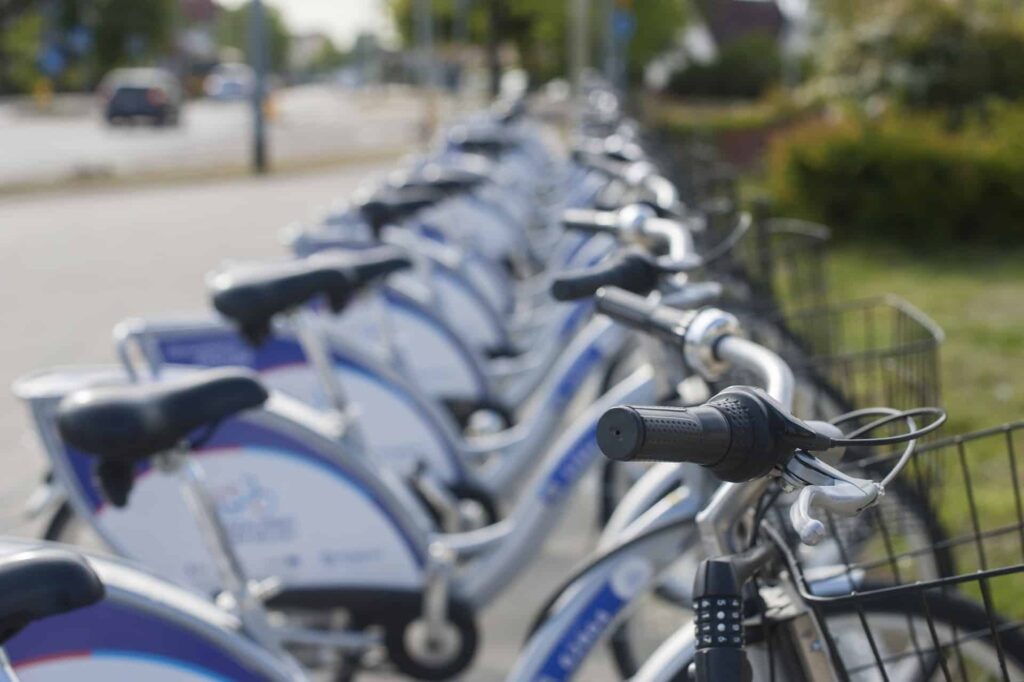 There are several biking events in Portland that happen annually such as Pedalpalooza Bike Festival and Portland's World Naked Bike Ride.
At Pedalpalooza Bike Festival, hundreds of volunteers organize different kinds of biking events. It could be something relaxing such as stopping by for coffee and donuts in the middle of biking or something weird such as putting on a costume while you go around Portland.
There are a lot of unique bike event ideas from several people and if you're interested, you can even organize your own! In 2022, there were 800 events at the Pedalpalooza Bike Festival from June to August because it was their 20th anniversary. As of writing, they have yet to announce their 2023 events, but we're already on the lookout!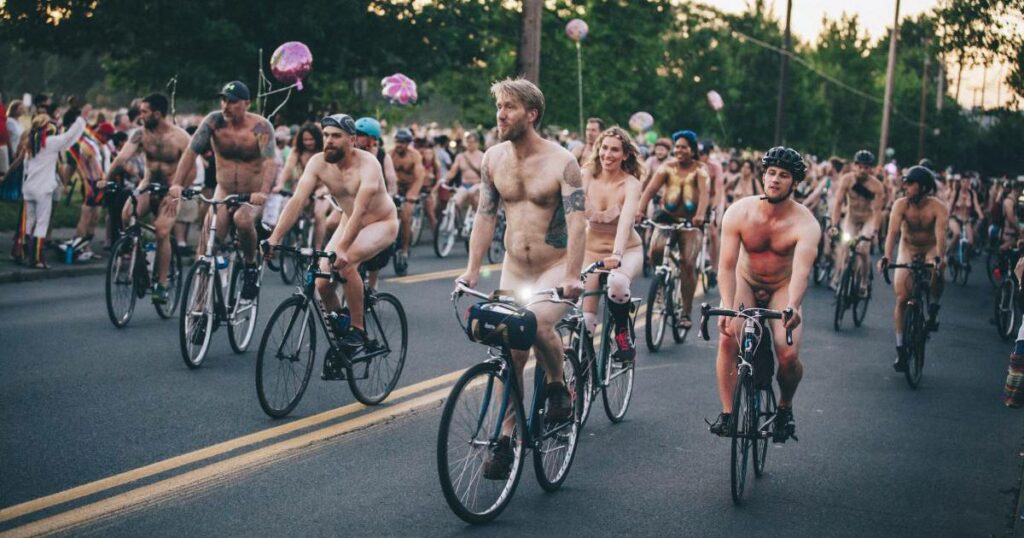 If you think Portland can't get weird enough, wait until you hear about Portland's World Naked Bike Ride! As the name suggests, Portlanders bike around in their birthday suit for the event, which is around June or July.
While it may sound weird at first, it actually serves as a protest against the dependency on oil. If you're wondering about whether this goes against any laws, nudity is legal in Oregon as long as it's for protest.
However, if one acts obscenely and engages in sexual activity in public, that would be considered as an offense that one can get arrested for.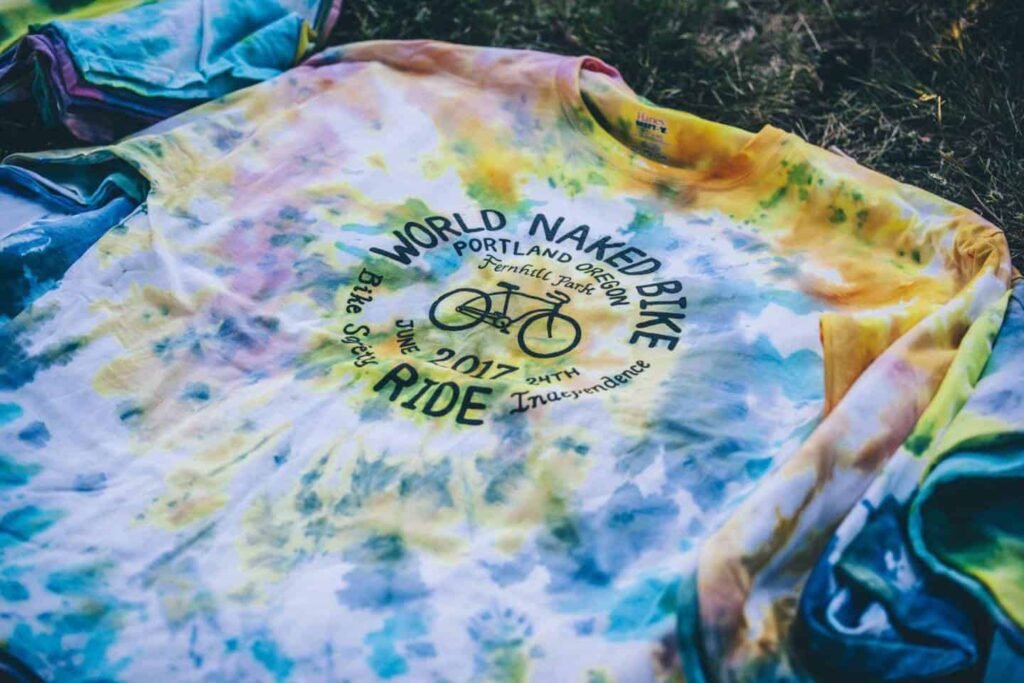 Moving forward, there are a lot of other biking events that happen in Portland. Here are two more examples that you may want to check out:
In April, there's an event called Tweed Ride where people hop on vintage bikes and go around the city.
There's also a mini bike event that happens year-round – the Zoobombers, every Sunday. Participants would ride mini bikes and ride it fast around the West Hills.
When is the best time to bike around Portland?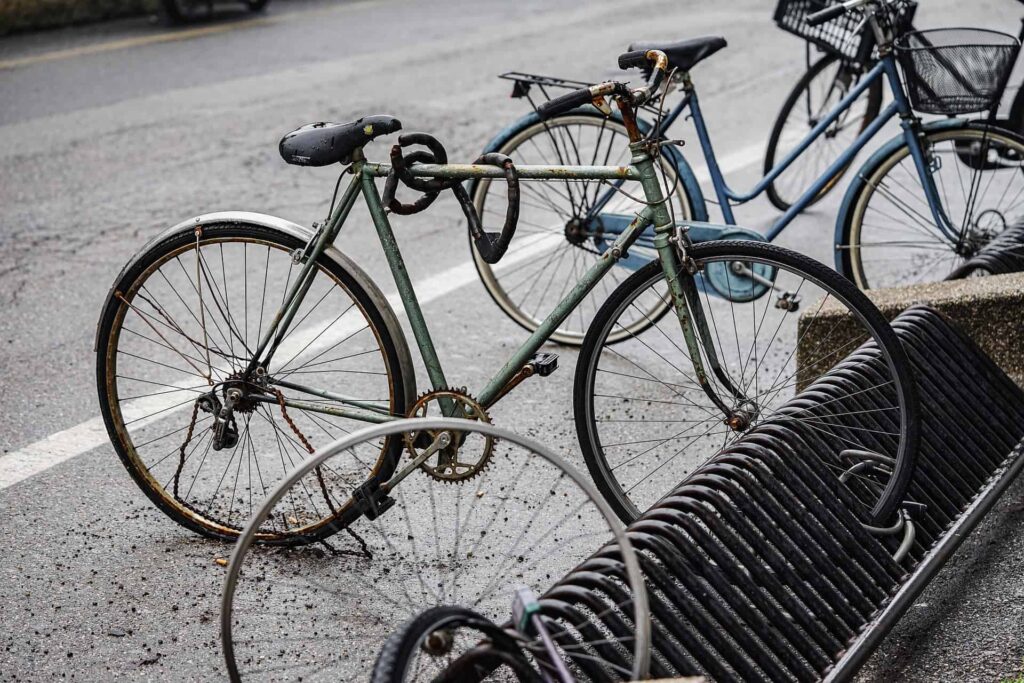 The best time to bike around Portland is around April to October. This is because the weather is generally fine around this time, so you won't run into sudden storms or precipitation while out in the open.
You can also ride a bike from November to March in the city, of course, but that's the rainy season in Portland, which could possibly hamper some of your plans… and ruin your clothes.
Where can I rent a bike in Portland?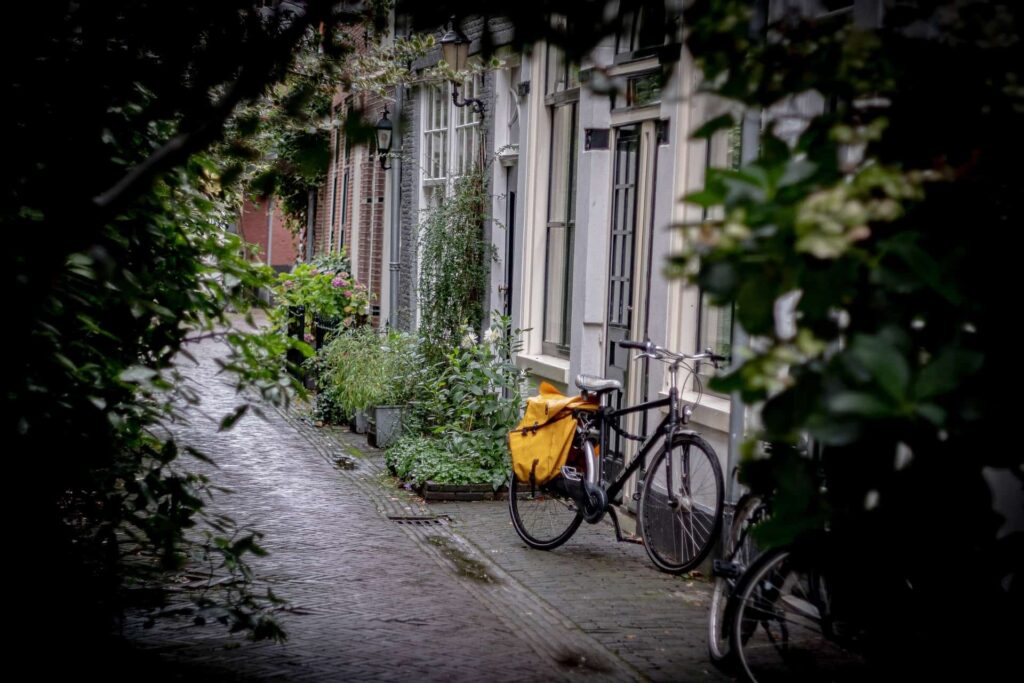 If you're not yet all-in on biking or are just in our city for a short stay, don't worry: you don't need to buy a bike just to try our bike paths. We have a lot of bike rental shops in the city!
Below are the ones we like best:
1. Everybody's Bike Rentals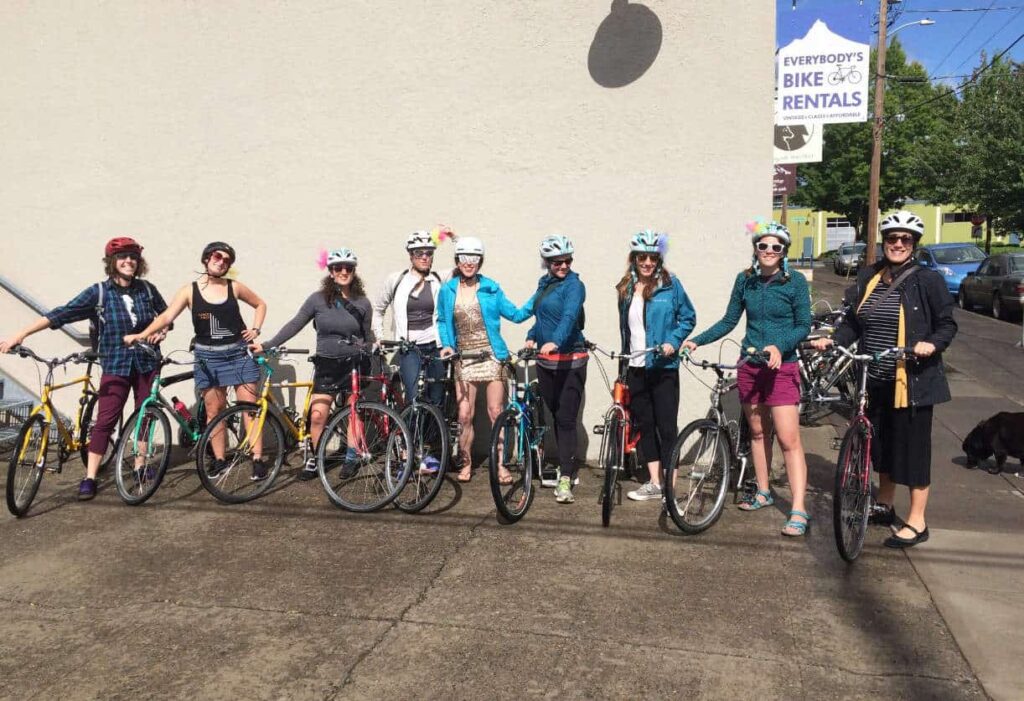 If what you're looking for is a shop with a lot of variety, Everybody's Bike Rentals offers more than a hundred kinds.
They have electric bikes, comfort, hybrid, touring, and many more in various sizes and styles. Included in your rental are helmets, locks, lights, and bike maps.
They would even include recommendations on where to go in the city, so you don't have to worry about anything else. All you need is yourself and you're good to go!
They say it's best to reserve at least 24 hours in advance, by the way. 
2. Pedego Electric Bikes Portland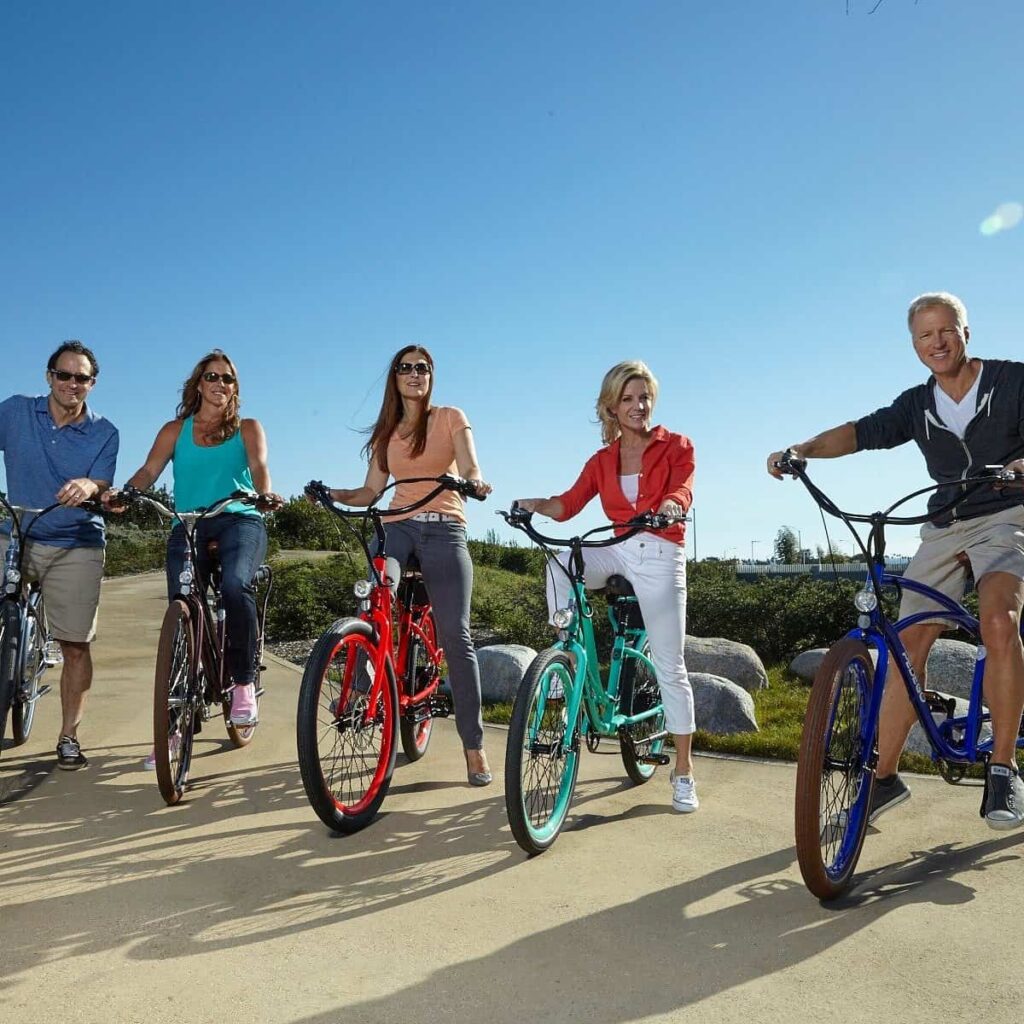 Pedego Electric Bikes has different kinds of electric bikes. Whether you're looking for a cruiser, city, fat tires, or mountain, you can be assured that you will find the bike of your choice here.
There are also colors, battery sizes, and accessories that you can choose from.
Their store is situated in a convenient place with a lot of restaurants and other quick bikes to choose from. There are also lodging options nearby.
You can even make a quick 10-minute trip to Lan Su Chinese Garden to appreciate the beauty of different kinds of plants and flowers while trying out your chosen bike!
Oh, and we found it quite easy to navigate the bike lanes in the area, which is another plus! 
3. Biketown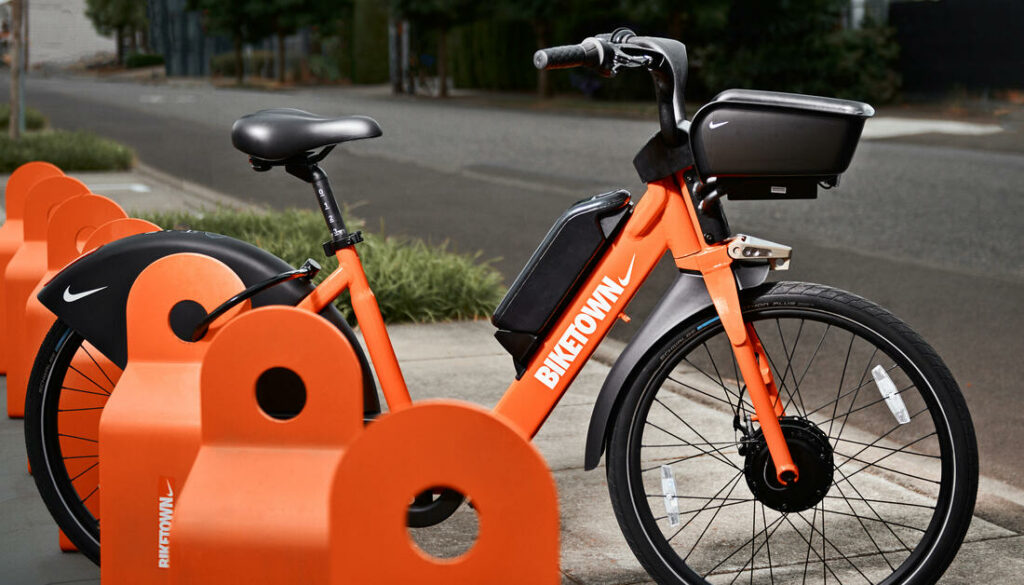 This one is different from the others because it's not a rental shop. It's the bike-share system in Portland that offers 1,500 bikes at over 180 stations downtown and other areas.
We Portlanders like it for its efficiency and convenience since the process to rent a bike is super-easy. You just have to download the Biketown app or access it through a browser and sign up.
You then have to choose what kind of membership you'd like to sign up for. When everything's set and you've entered all the needed information, go to the nearest Biketown station and scan your QR code.
Before you leave, make sure to put the cable lock in the holster. Once your ride is done, you can again return to any Biketown station.
You also have the option to lock the bike at a public bike rack. That is if it's still within the service area. Note that doing so would require you to pay a small fee.
If you're in Portland for a while, we recommend signing up for their annual membership plan. For as little as $99, you can rent a bike an unlimited number of times, which can help you save a lot if you don't plan on purchasing your own. 
What Portland bike tours should I hop on?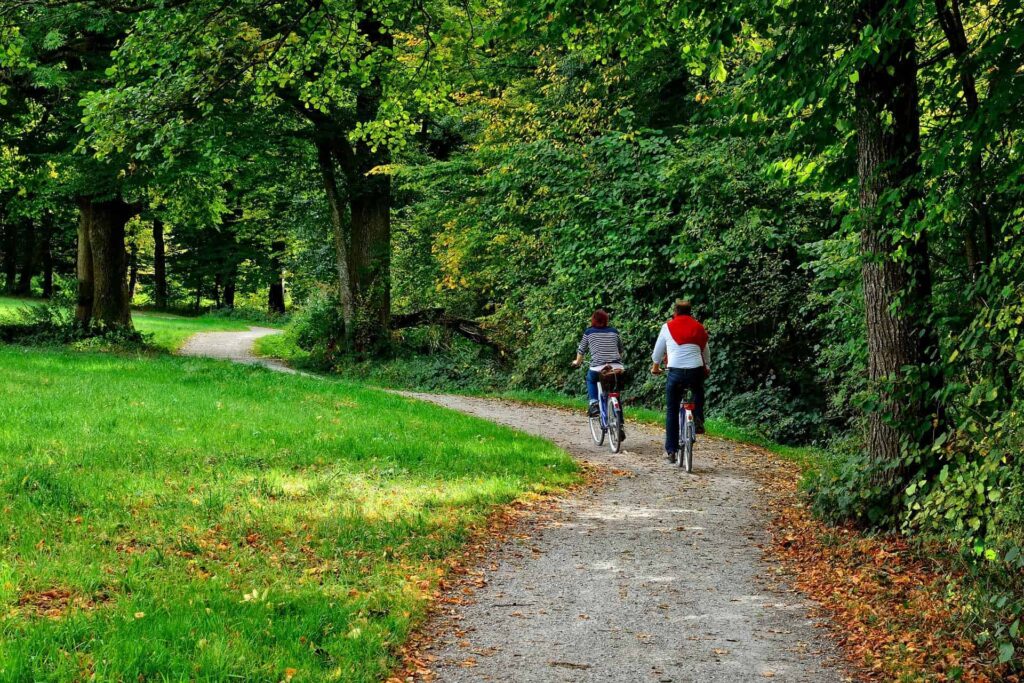 We've already written about at least one bike tour in Portland before, but here, we'll give you more ideas for what to try if you want to see our city while on a bicycle. 
The nice thing about these tours is that you will be able to see the city through the eyes of your local guide. You will surely be able to discover more places than you can find on your own!
1. Cycle Portland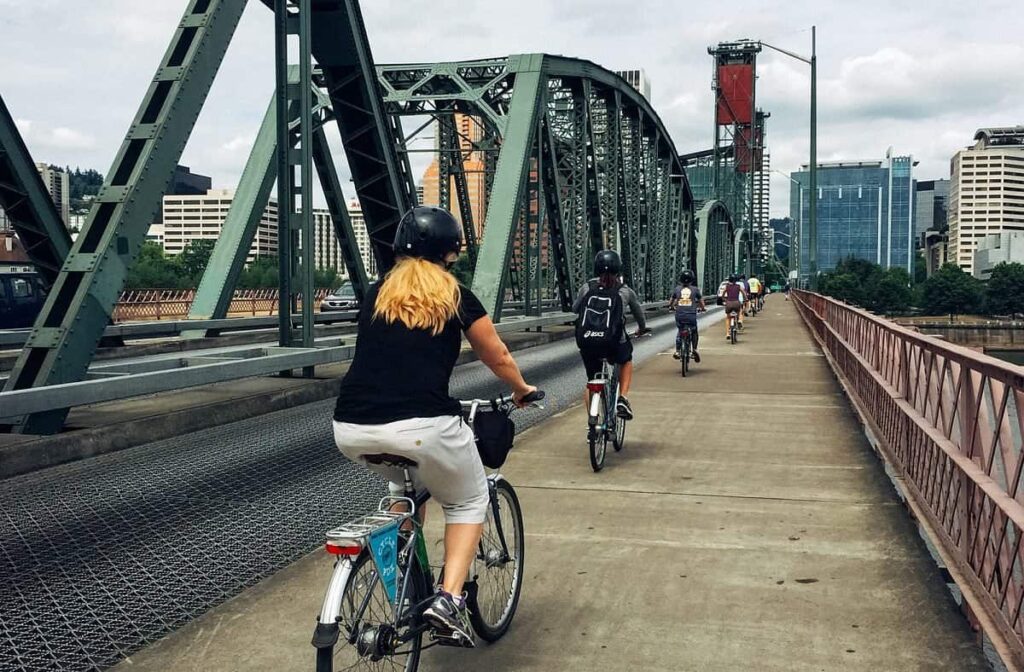 There are several trips under Cycle Portland, all of which we found quite enjoyable. To be exact, the ones we recommend most are these ones:
At the Essential Portland Tour, the guide will take you to the places you shouldn't miss if you're visiting Portland. This includes The Old Town and the Pearl District. We recommend this to those who are visiting Portland for the first time and want a taste of what this city has to offer.
One of the things Portland is known for is the number of local breweries in the area, a lot of which have their own unique specialty. The Brews Cruise will take you to several breweries to taste their refreshing beverage. You will get to purchase the beer of your choice from two breweries you will visit. Aside from beer drinkers, history lovers might also enjoy this tour. It's because you will be riding around old neighborhoods in Portland.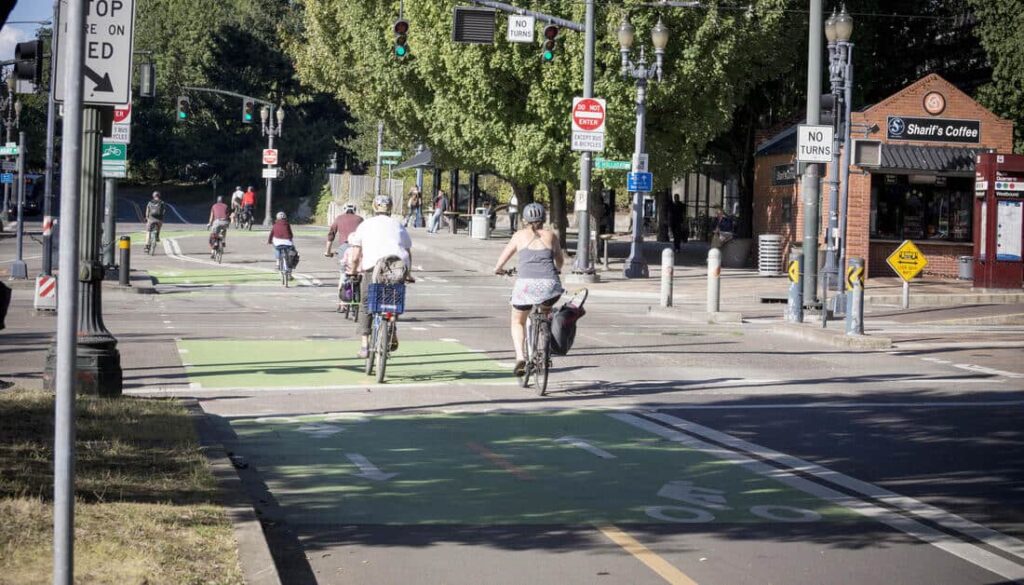 We recommend the Foodie Field Trip for people who want to know more about the local food scene with the help of a Portland local. You will get to enjoy local drinks, ice creams, and chocolates and even get the chance to dive into the Portland food carts scene.
They also do custom tours for minimum groups of 10 people. You just have to let them know which places you're interested in seeing and how long you want it to be. 
Pro tips:
If you're planning on eating before the Foodie Field Trip tour, we suggest only having a light breakfast so you can enjoy all the places you stop at!
Make sure to get plenty of rest because the tours are 2.5 to 3 hours long.
2. Around Portland Tours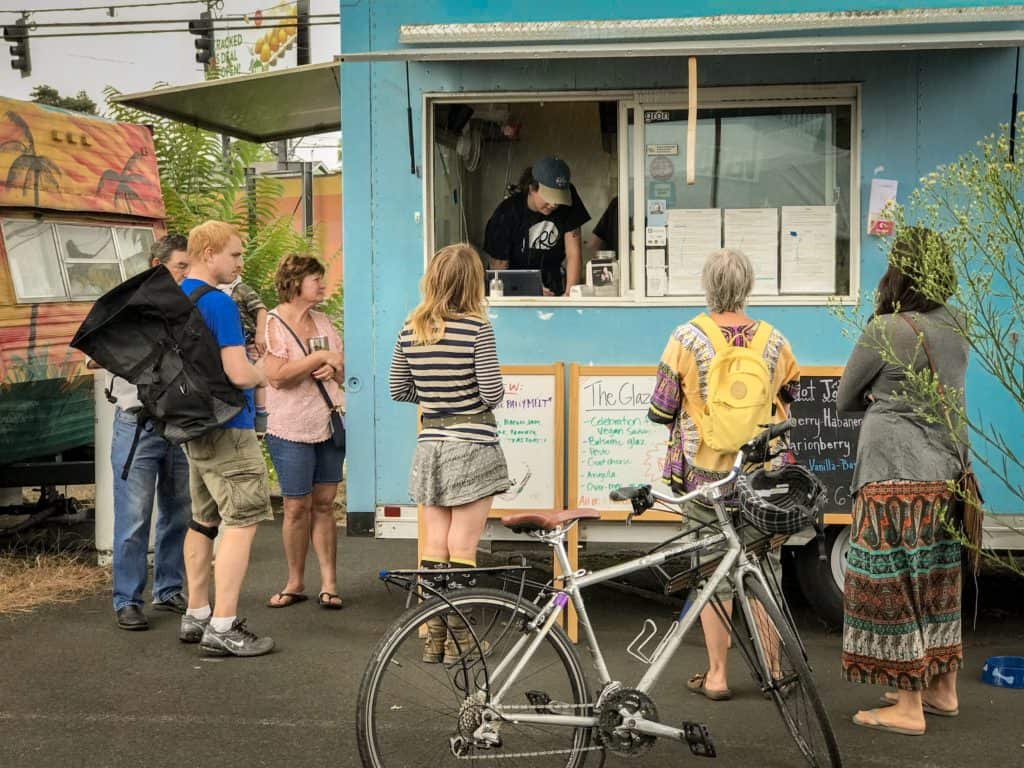 Around Portland Tours is another of our favorite bike tour companies. Here are the ones we like most from them and why.
Bike Around Portland Tour is a 3-hour tour that takes you to the areas that are popular among Portlanders. The guides will also tell you stories about the city, which will make you appreciate it more. Water, helmets, and bikes are already provided.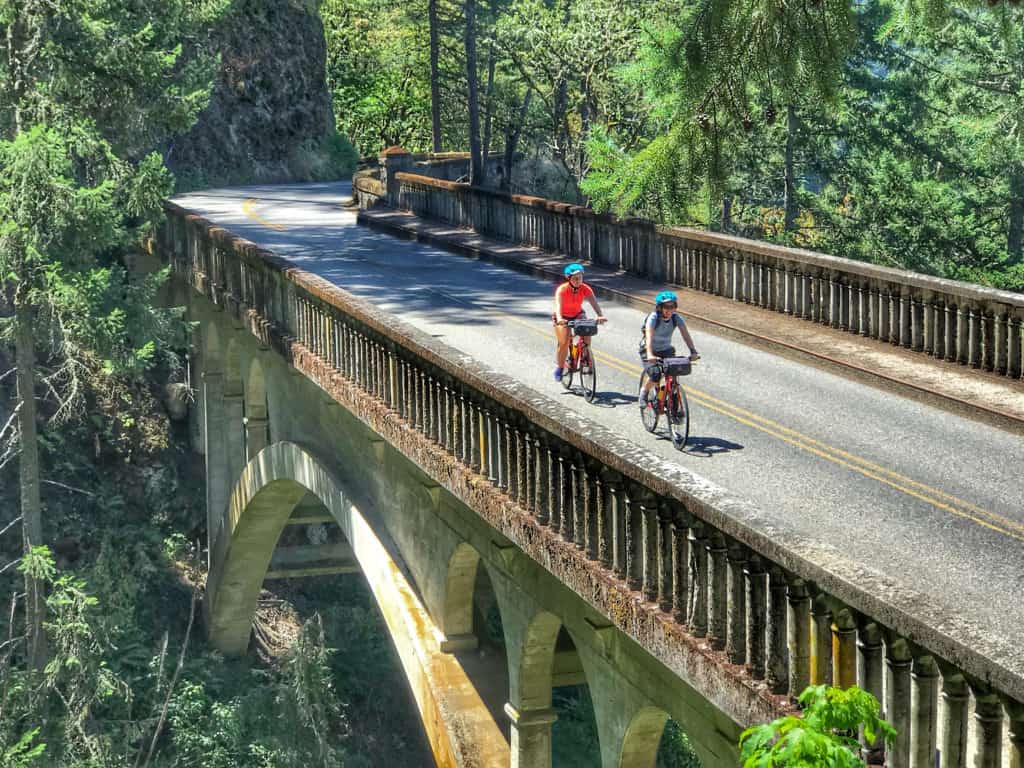 If you're extra adventurous and like active sports, it's more likely that you will enjoy the Bike and Hike at the Columbia River Gorge Waterfalls tour. Once you get to the meeting place, the guides will transport you via vehicle to Columbia River Gorge. This is when the fun begins! You'll start at the Historic Columbia River Highway, then proceed to waterfall hikes after passing by several viewpoints. The tour will end once you get to another viewpoint of the Columbia Gorge.
Foodies will surely enjoy the Food Carts of Portland's East Side tour. This 3.5 to 4- hour tour will take you to several food carts spots that are talked about by the locals. The guide will also tell you stories behind Portland's food scene. Helmets, bikes, and food samples will be provided.
Donuts for brunch? Why not? The Doughnuts and Coffee Bike Tour is a 2-hour tour that will help you discover what coffee and doughnut shops to frequent at. First, the guide will take you to a shop that sells coffee, tea, and hot cocoa. Afterwards, you will get to try local doughnuts, which is one of the things Portland is famous for in the culinary scene.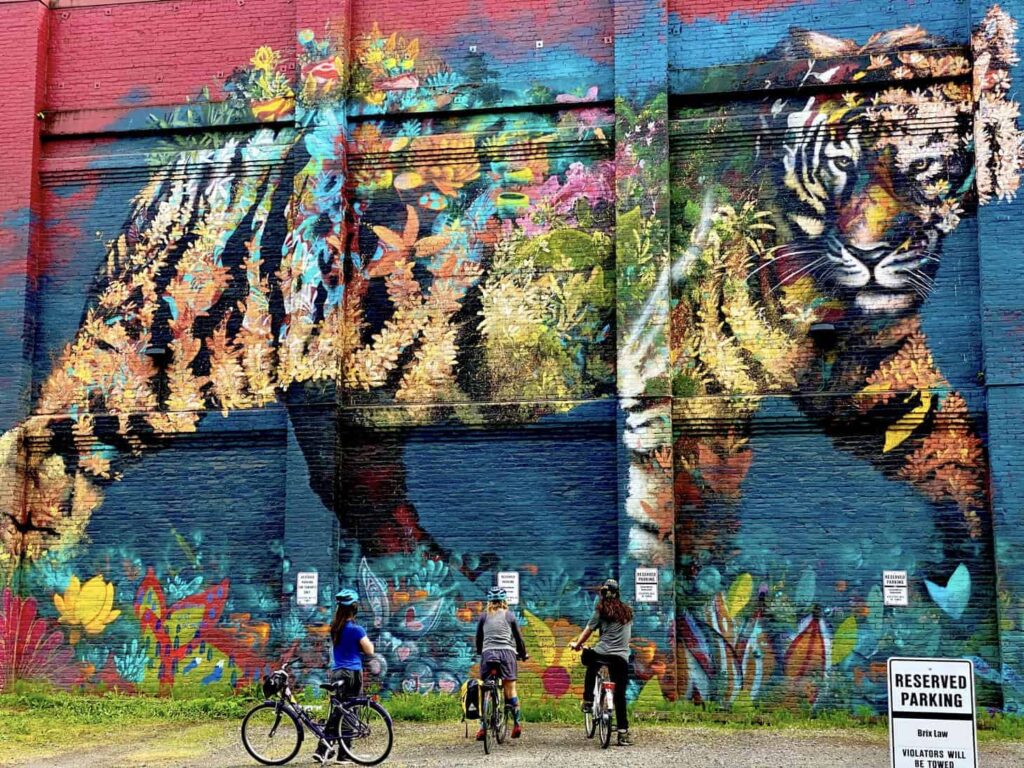 At the Street Art PDX Bike Tour, your guide will teach you more about the Portland street art culture. This tour made us appreciate street art more and notice how the designs make the city more lively and colorful. This is a 2-hour tour where you will also get the chance to visit old import shops full of art. Spoiler alert: you'll be ending this tour with lots of new photos on your phone or camera.
For the Cannabis Culture Bike Tour, the guide will take you to two local dispensaries and will even tell you the basic things to know about Cannabis. The guide will even point you to where your cravings will be satisfied if you happen to get the munchies!
3. BrewCycle Portland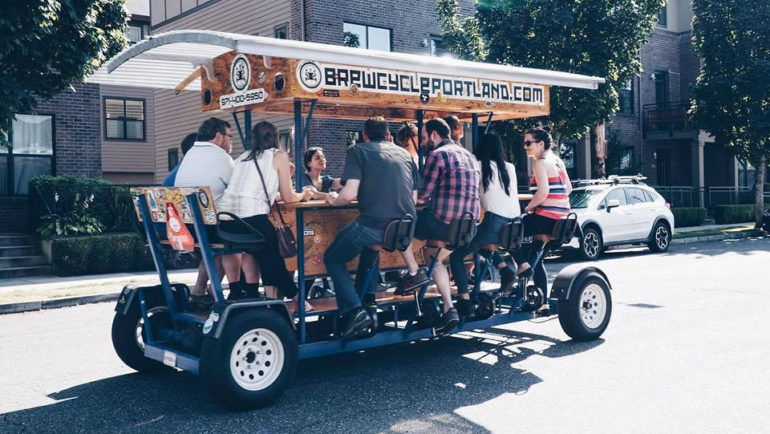 Image from BrewCycle Portland
BrewCycle takes a different spin to biking. Participants get to sit comfortably on the vehicle, while the guide on the center is the one who bikes.
To our surprise, it's actually quite enjoyable because we got to talk closely to the people we're on tour with. In tours where you have separate bikes, it might be harder to talk to the guide or to your friends.
They have two kinds of tours – the BrewCycle and the BrewBarge. BrewBarge is a cruise, so it might not be something you're interested in since you're here for the bikes.
In any case you are, we've also added a short description about it below.
The BrewCycle is a 2-hour tour that takes you to three different pubs. Drinks are not included but you can freely purchase a drink at each stop. Of course, this one's for the 21+ plus travelers only. This tour still pushes through no matter what the weather is, which we think is pretty neat!
The BrewBarge is a 1.5 hour cruise where you're free to bring your own beer. The maximum number of passengers is 14.
What are the best bike trails in Portland?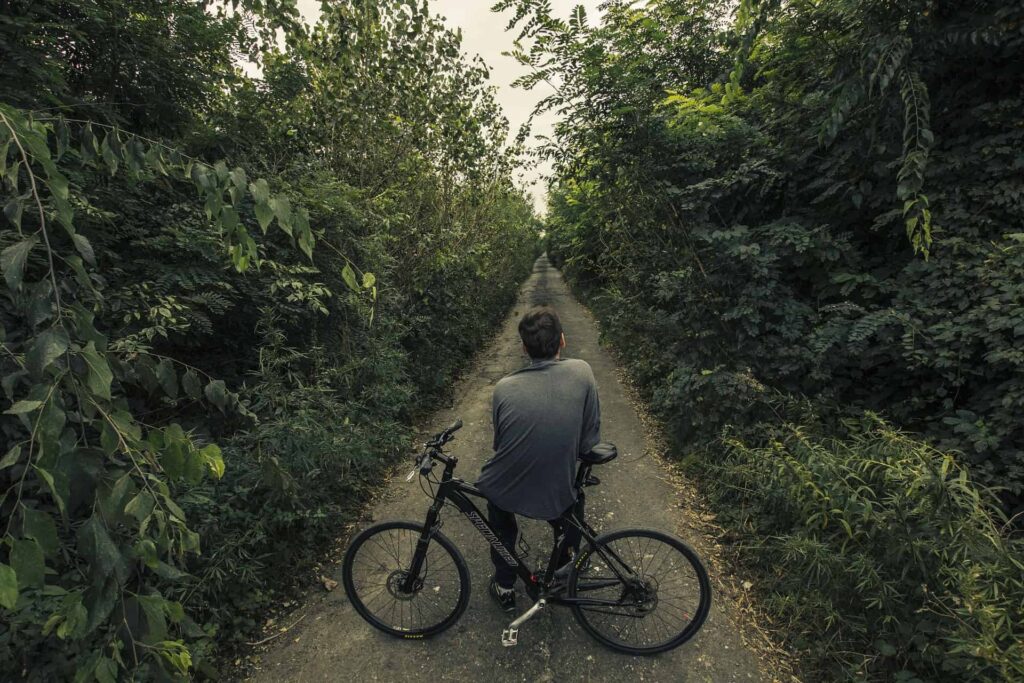 If you're someone who likes to be more free in their itinerary, you might be more interested in bike trails than bike tours. If that's the case, we have you covered too!
We based our choices below on the length and the views you will get to bike through. 
1. Eastbank Esplanade
This 1.5 mile long trail takes you from Hawthorne Bridge to the Steel Bridge. It also connects you to the neighborhoods on the east side and the area around Gov. Tom McCall Waterfront Park.
Cyclists love this spot because of the beautiful views you get to pass through. Additionally, the floating walkway will make you feel like you're riding the bike on water!
2. Springwater Corridor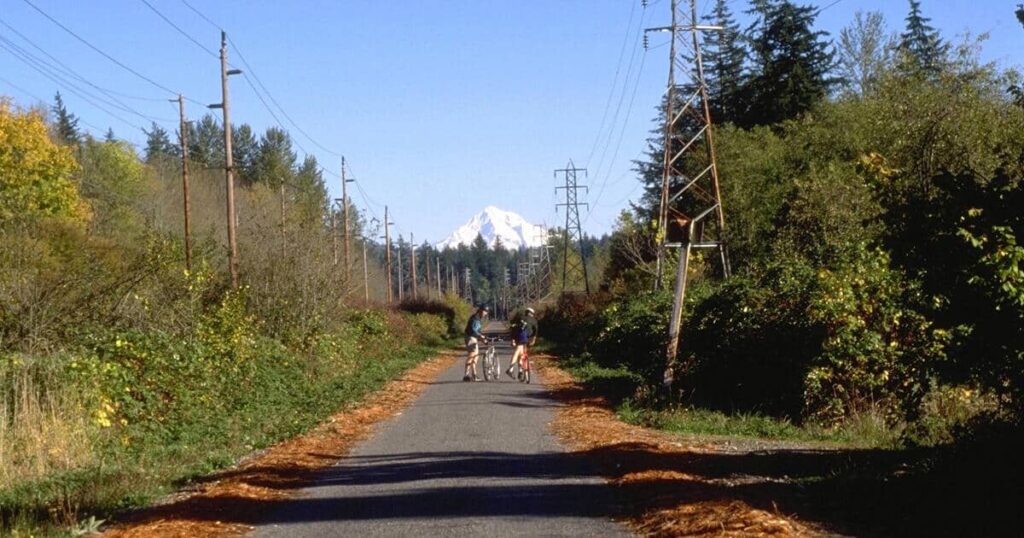 If you want to feel like you're cycling outside the city, the 21-mile Springwater Corridor might tickle your adventurous side!
There are a lot of picturesque views along the way that will make the ride worthwhile. You will pass by agricultural pastures, wetlands, and even streams
You might also be able to spot different wildlife while you're on this trail like song sparrow, violet-green swallow, and black-capped chickadee. Most of us bring binoculars just to see these when we take this trail.
3. Laurelhurst Park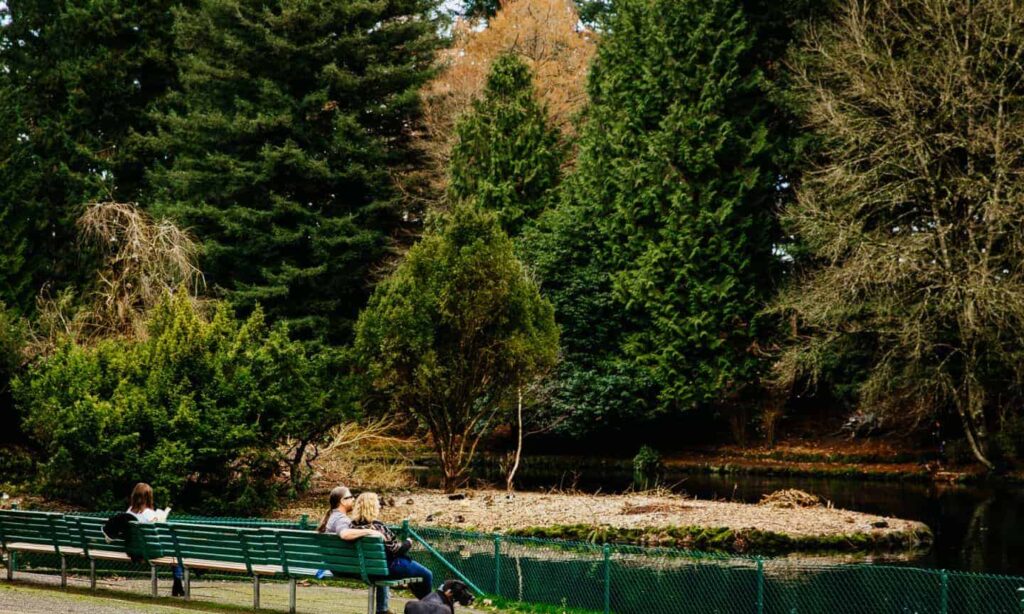 Laurelhurst Park is a 26-acre area that has several trails for cycling and walking. A lot of people also go here to do various sports activities like tennis and running.
You can rest anytime on one of the benches and maybe read a book while you sip a hot cup of coffee. We particularly enjoy our quiet time here while we people-watch from time to time and perhaps listen to buskers in the area.
It's situated in a fairly good neighborhood with a lot of options for coffee shops and bars, by the way. 
Pro tip:
We find it quite convenient to choose this trail because there are restrooms and picnic tables available. Might as well make a day out of your biking adventure and end it with a well-deserved picnic!