Categories >
Guides and Tips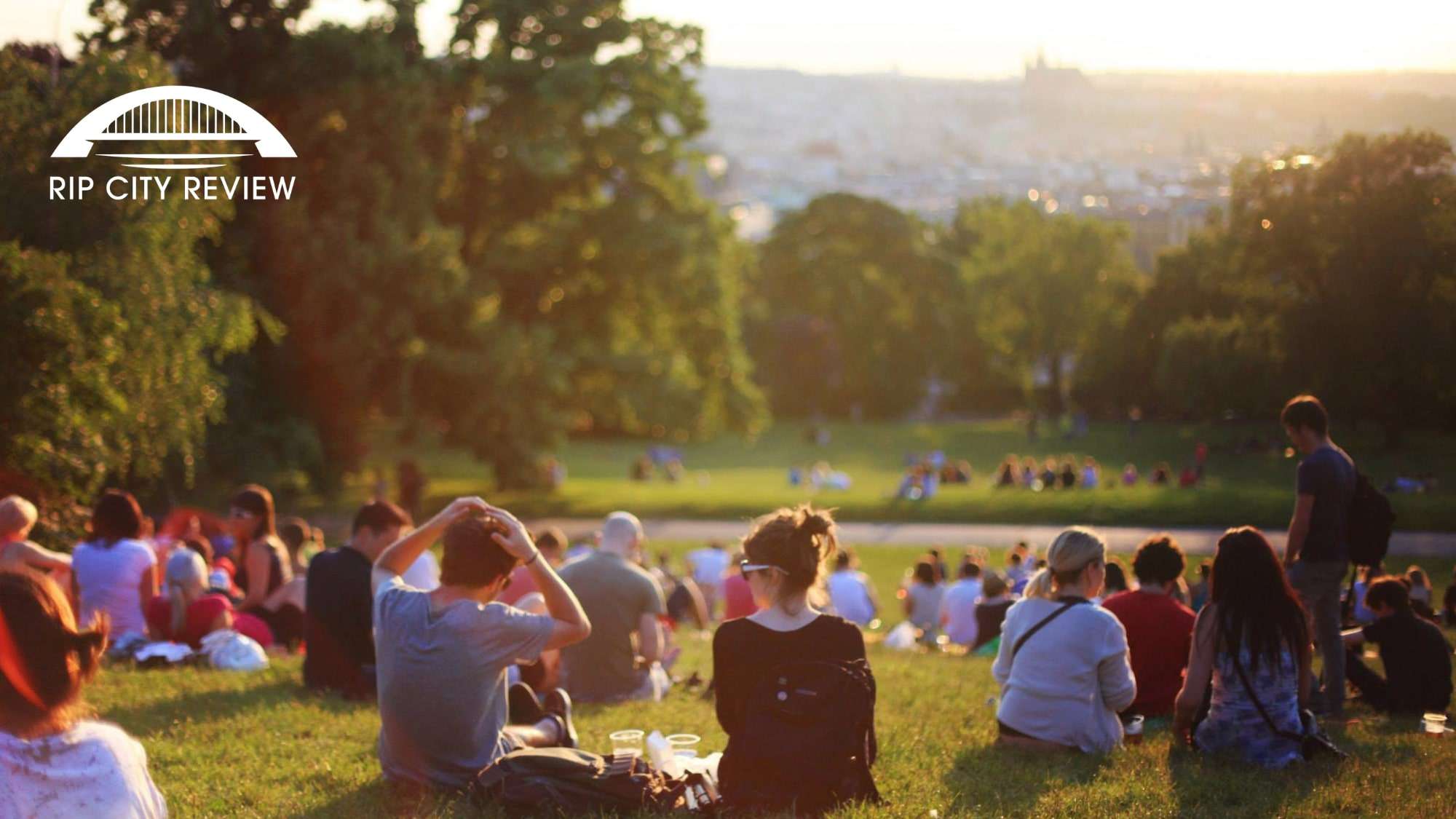 The 6 Most Beautiful Parks in Portland
One of the good things about being a Portlander (and there's a long list!) is that you have the best of both worlds. You get all the modern amenities of the city while also having access to a lot of natural areas.
As far as the latter's concerned, we have a lot of beautiful parks for those who need to get in touch with Mother Nature. Want to check out the best ones? We have you covered in today's article! 
1. Washington Park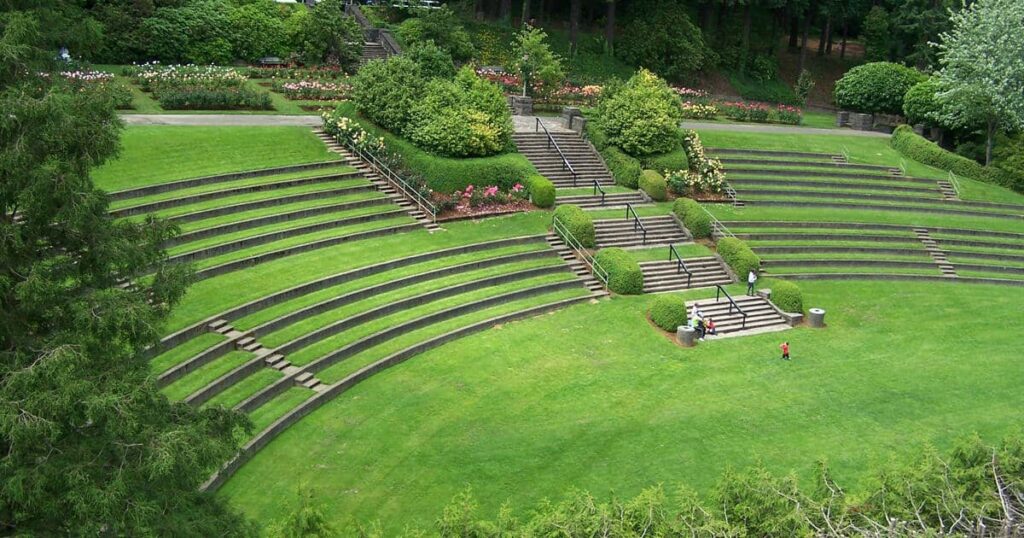 Washington Park is one of the most visited parks in Portland, attracting 3.5 million people every year. It's also one of the oldest, having been around for 150 years!
If you're a local, it's most likely you've already explored the park at least once or twice. It's because it's quite well-maintained, not to mention large: this park is 410 acres, so there's a lot to see.
Furthermore, this is where you will see other famous places in Portland such as the International Rose Test Garden, Hoyt Arboretum, Portland Japanese Garden, and Oregon Zoo. Let's go over each one:
The International Rose Test Garden is one of Portland's best-known gardens. In it, you can see 10,000 rose bushes from 650 varieties.  We recommend exploring for an hour if you just want to take photos with the flowers. However, if you want to learn more and observe the different types of roses, we suggest planning for about 2 to 3 hours.  
With 12 miles of hiking trails and 2,300 species of trees, Hoyt Arboretum is not just a place of exploration, but also a place of wonder and education. Additionally, there are also several species here that are endangered or threatened.
The serene Portland Japanese Garden is a great place for relaxation and appreciation for Japanese aesthetics. We highly recommend stopping by here if you like Japanese aesthetics. It's one of the most authentic Japanese gardens outside Japan, so you might as well take this rare opportunity!
The Oregon Zoo has 2,585 individual animals and among those, 15 are endangered and 7 are threatened species. But don't worry, the zoo strives for the survival of these species. They are active in their conservation efforts and educational programs, which may also be worth looking into if you want to do more to help.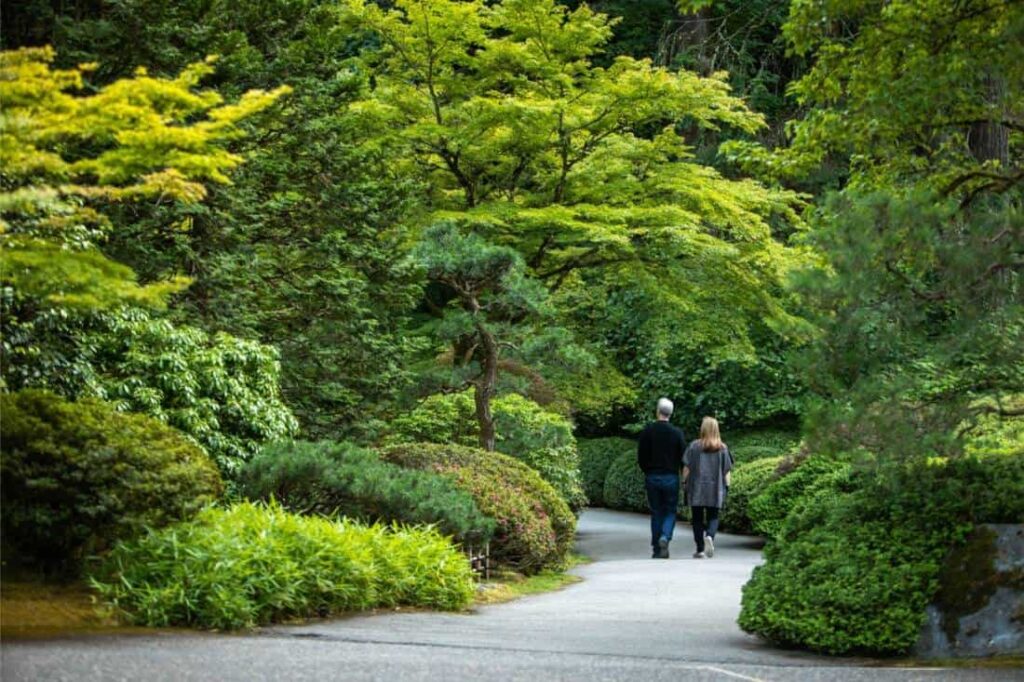 As if that's not enough, the park recently added more amenities and attractions!
Included in the list is an archery range managed by Portland Parks & Recreation. It's free and you don't have to reserve a slot. However, you will be asked to bring your own equipment (this was the only part that gave us problems!).
They also maintain the Open Field by Sherwood Bldvd. It's free to use the field, but if you need it for practice or a game, you need a permit for it which requires a fee.
There are also memorials and statues in the area if you're particularly inclined to see pieces of history such as the Vietnam Veterans of Oregon Memorial, Oregon Holocaust Memorial, and the Sacajawea Memorial.
Other amenities and attractions we thought were a great touch were the picnic tables, restrooms, children's playground at the Rose Garden, tennis courts, and the World Forestry Center Discovery Museum. 
Pro tip:
There's a free seasonal shuttle in the park all year round, but the available time varies. From April to September, it's available at 9:30 AM – 7PM every 15-30 minutes. Meanwhile, during October to March, its operating hours are 10 AM – 4PM every 15-30 minutes.
2. Peninsula Park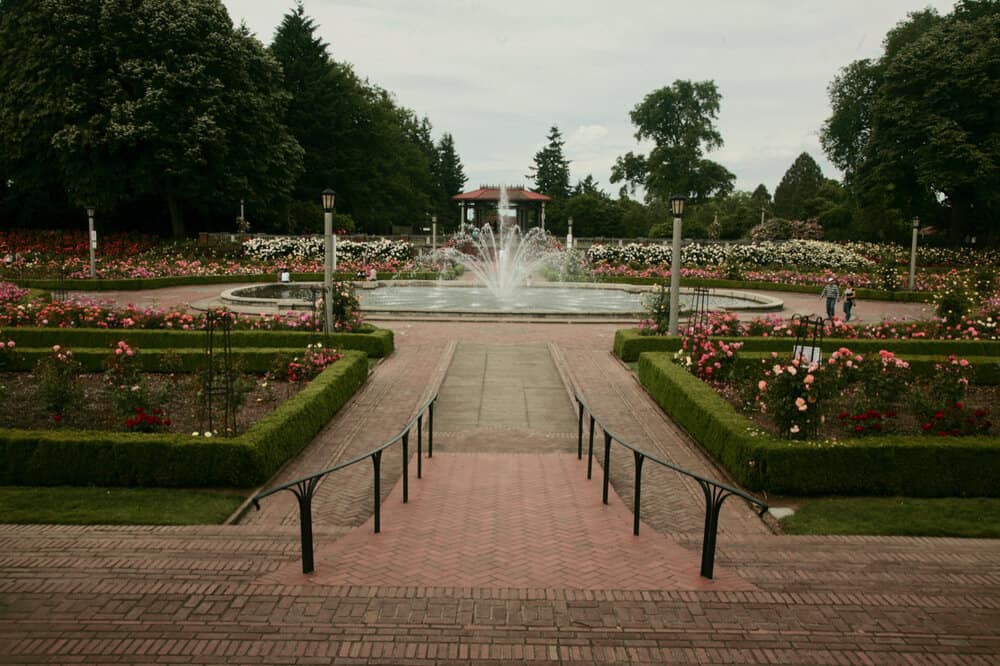 Located in the Piedmont neighborhood, Peninsula Park is a 17-acre space that is home to Portland's second-oldest playground and its first public rose garden and community center.
There are a lot of convenient amenities in the area that makes it the perfect place for the whole family to play in on a sunny afternoon. Furthermore, all ages would be able to enjoy this park.
There's a picnic area, soccer field, fountain, basketball courts, and a lighted tennis court.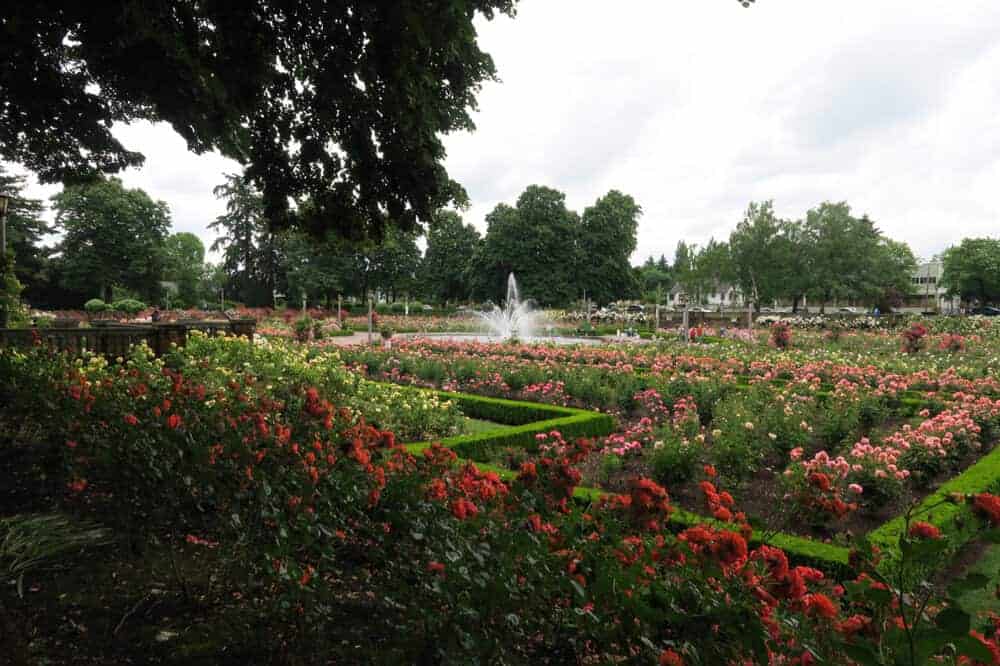 In this park is where you will also find the 100-year-old Peninsula Park Rose Garden. Its central fountain and 5,000 roses with 56 varieties are certainly the highlight of the garden!
You will also be able to spot Portland's official rose here, which is the Caroline Testout. If you've never seen one, here you go: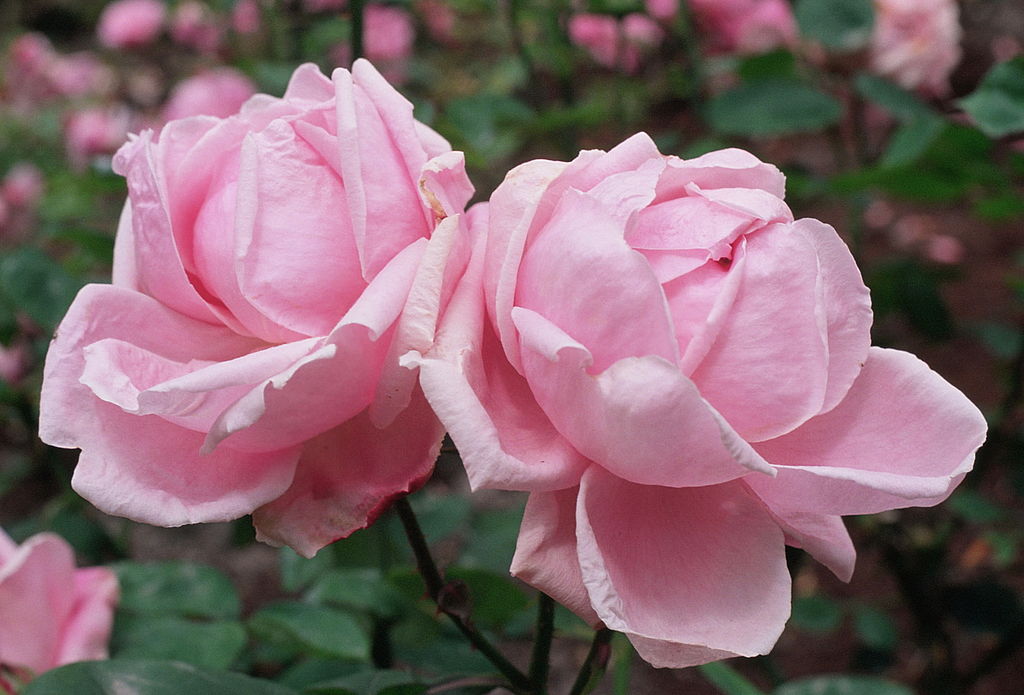 The garden takes up 2 acres of the Peninsula Park's 17, so it's still quite spacious.
Like the park, the admission here is free. You can also reserve the park for weddings, picnics, and sports activities by contacting Portland's Park & Recreation. 
Pro tips:
There are free tours at the Peninsula Park Rose Garden, so make sure to check out the park's schedules!
They also have a rose care class from time to time. Keep on the lookout for those if you're interested in growing roses.
If you're here to play tennis, the lights at the tennis court closes at 10 PM.
3. Laurelhurst Park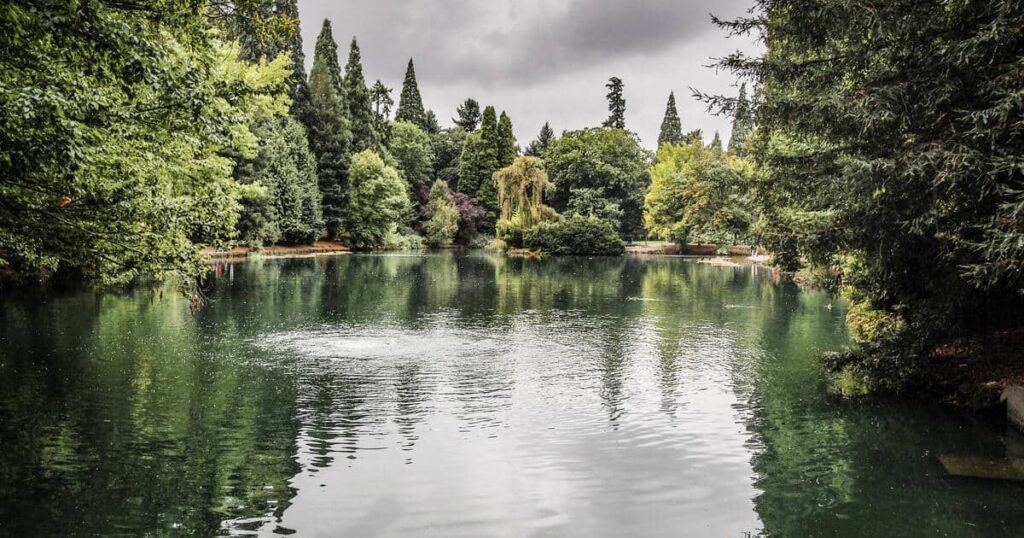 The 32-acre Laurelhurst Park is situated in a quiet and peaceful neighborhood, which makes it the perfect spot for relaxation.
Aside from the scenic views this park has to offer, it also attracts visitors for other reasons. They have a picnic area, a playground, a soccer field, a basketball court, a volleyball court, and a tennis backboard.
It's a great place to go to if you want to do something active either with company or alone. The latter is because there are paved paths that you can use for jogging around the area.
You can also let your dogs run free here because there's even a dog off-leash area, but of course, dog parents are still expected to be responsible for their dogs. Most of us on the staff actually prefer to keep ours leashed when visiting the park.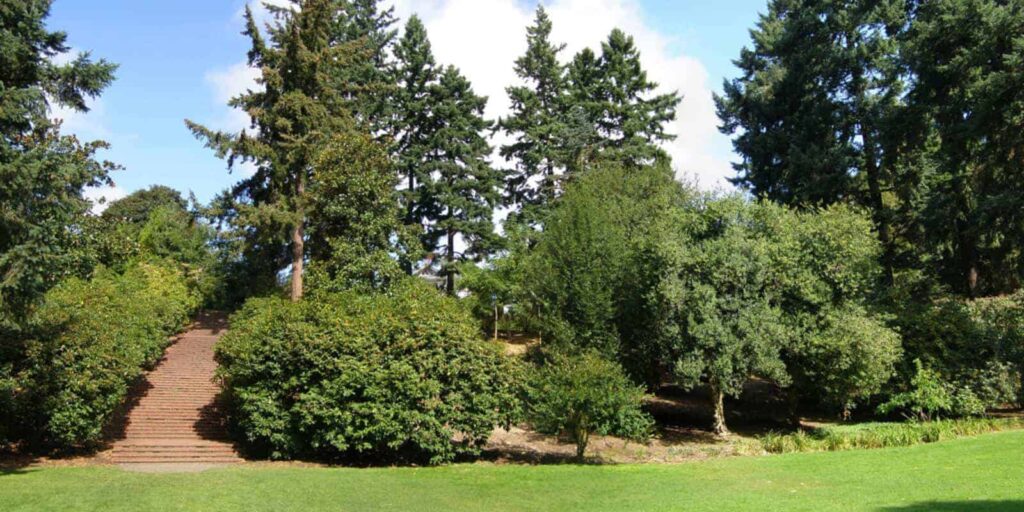 Another thing that is notable about this park is that it was the first one to be included on the National Register of Historic Places. In other words, it's important enough to our city's history to be worthy of preservation.
Moreover, there are even events in the park from time to time. An example from the past is the Summer Free For All, which is a program that provided free films, concerts, and others.
Anyway, you never know when a new event will take place here, so be on the lookout!
Pro tip:
Try out Oblique Coffee Roasters if you're in the area. It's a simple, no-fuss coffee shop that's just 5 min-walk from the park. We loved their Chai Latte!
4. Mt Tabor Park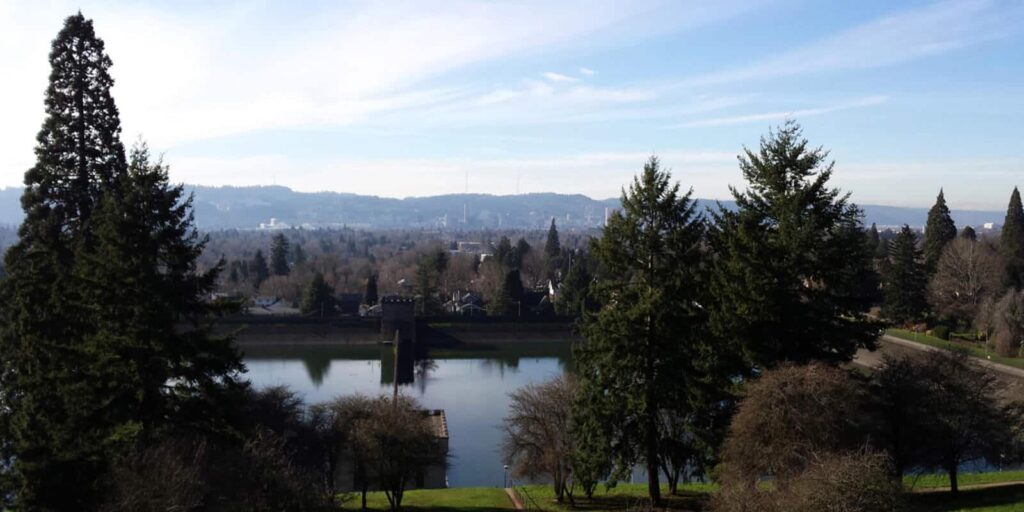 We find that the most interesting thing about Mt Tabor Park is that it sits atop of a volcano. Don't worry though – it's said to be extinct.
In fact, Mt Tabor has been extinct for 300,000 years. See? No need to get too anxious about it – we Portlanders certainly don't!
Anyway, the amenities offered at the park are a basketball court, tennis court, playground, and a picnic area. So, basically, it caters to a lot of different people, even to kids.
It's a charming area that has a nice view of the lake, so you can even bring the whole family with you. Yes, even your furbabies!
As of writing, there are several events coming up at Mt Tabor Park. Let's go over the biggest ones here:
The Nature Photography event is hosted by Susan Baumgardner. There, you will learn about photo composition, imaging, and color. If you don't have a camera, you can bring your phone instead!
The Weed Warriors Habitat Restoration happens on the last Saturday every January – November. This is the chance to help out if you're interested in improving the ecological health of Mt. Tabot Park. You will pull ivy, add mulch to the plants, and more. Materials are provided, so you don't have to worry about that either.
If you want to learn more about the plants around you, the Native Plants Walk will take you to look at the plants and discuss restoration efforts to maintain them.
The Guided Tour is a free, open-for-all event that is led by Friends of Mt Tabor Park, which is an organization that helps restore and maintain the beauty of the park. This is an in-depth tour where you will have the chance to ask and learn more about the plants, trees, flowers, and wildlife in the area.
5. Overlook Park
The Overlook Park offers a home to wildlife in the area and an opportunity for people to enjoy the natural beauty of Portland.
There are various ways to enjoy your visit to Overlook Park. One being to play outdoor sports such as soccer, softball, volleyball, basketball, and baseball.
Since there are paved paths, the park is also perfect for walking and jogging. Your dog can even play freely on the dog off-leash area.
Aside from the dog off-leash area, other amenities include a picnic table, playground, and track, so people of all ages can enjoy coming here.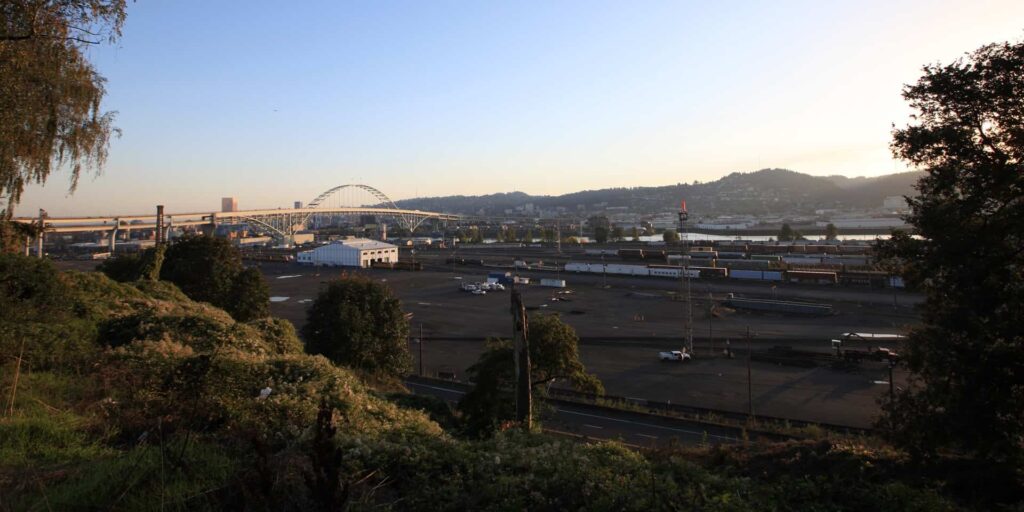 Usually, there aren't that many people at the Overlook Park, so if what you're looking for is a more peaceful place to go, it might be better to choose this park over the others.
As of writing, Portland Parks & Recreation is even adding more nature patches to parks like Overlook. Other than further beautifying it, nature patches also serve as support to native pollinators, so you may well see some interesting insects and birds! 
Pro tips:
As the name suggests, you will also see a view overlooking downtown Portland. If you have time, staying until sunset is worth it – we promise!
If you're in Portland in June, check out this park for the North American Organic Brewers Festival.
There's limited parking, so keep that in mind, especially if you're going here on a weekend.
6. Forest Park
If you want to put your hiking skills to the test or you simply want to find a decent trail you'd like, the 5,200-acre Forest Park has more than 70 miles of trails.
One of the most popular trails is the Wildwood Trail and it's certainly one we recommend. It goes on for 30 miles and is connected to other destinations such as Balch Creek Canyon, Pittock Mansion, and the Stone House.
If you want to make a day out of exploring popular places in Portland while doing something active, hiking on this trail would be hitting two birds with one stone – if you're up for the challenge, of course!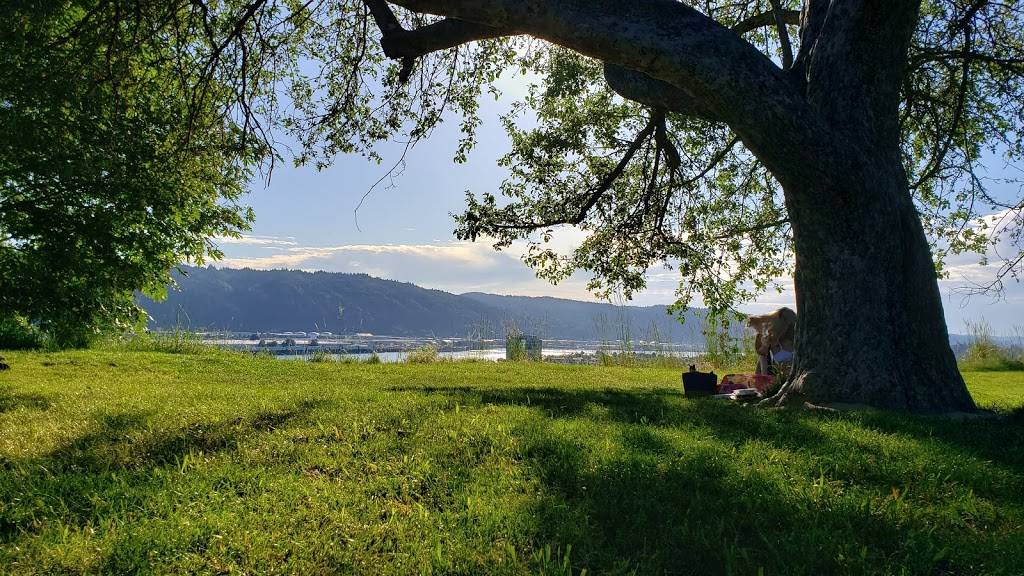 If you're particularly keen on knowing more about plants, you might be able to spot Douglas fir, grand fir, big leaf maple, Western red cedar, and more.
As for the wildlife that has made its home here, there are more than 100 species of birds, 400 species of invertebrates, and 50 species of mammals.
Aside from those, you will also be able to spot trout at Balch Creek, Miller Creek, and Saltzman Creek, which are streams that can be found at the park.
There are no other amenities in the area, mind, so it's really just for exploration and education. However, biking is also an option if you're looking for a biking trail.
There are 25+ miles of roads and trails inside Forest Park where you can go around with your bike. This includes Springville Road, Saltzman Road, Leif Erikson Drive, and a lot of firelanes. 
Pro tips:
There are a lot of parking spaces here. However, the areas with the most parking spots are as follows: Wildwood/Pittock Mansion Trailhead, Lower Macleay Trailhead, Upper Macleay and Macleay Park Trailheads, Lower Saltzman Trailhead, and Wildwood/Germantown Trailhead.
Pets in the park must stay on the leash at all times. This is to protect the wildlife in the area.
Mobilized mobility devices are only allowed for people with disabilities. This means that e-bikes and electric scooters are not permitted.