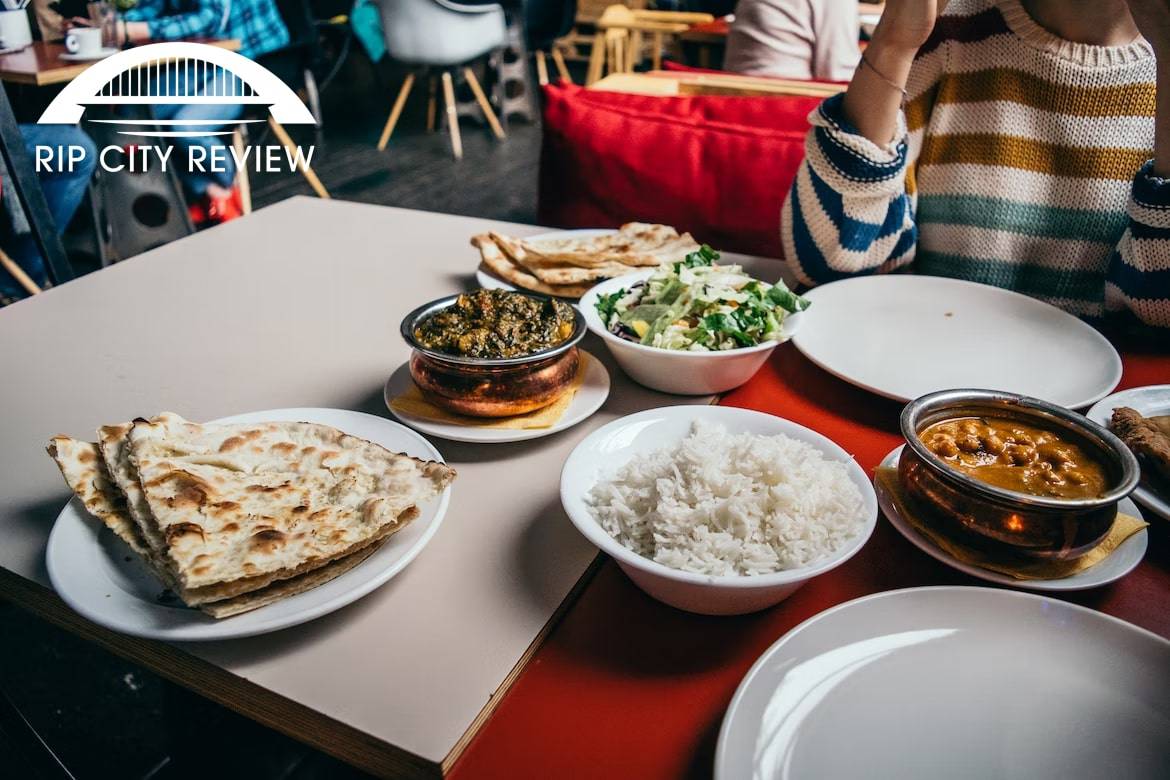 Best 6 Indian Restaurants in Portland
How we picked
Quality of Food
We chose Indian restaurants in Portland known for their delicious, filling food.
Menu
Indian cuisine has its crowd favorites and staples. We picked places with their own specializations or well-designed menus.
Ambiance
Does the place allow for a cozy dining experience? Is there good seating, great decor, and music to match?
Convenience
We chose restaurants with good service, convenient take-out and delivery options, and ease of access.
1. Bollywood Theater
Specialties: Indian, Street Food
Address: 3010 SE Division St, Portland, OR 97202
Website: https://www.bollywoodtheaterpdx.com
Contact No.: (503) 477-6699
Opening Hours: Thursdays to Mondays, 4 PM to 9 PM (Closed Tuesdays and Wednesdays)
| | |
| --- | --- |
| Google | 4.4/5 |
| Yelp | 4/5 |
| Total Reviews | 5/5 |
| Score Consistency | 5/5 |
| | |
| --- | --- |
| Quality of Food | 5/5 |
| Menu | 5/5 |
| Ambiance | 5/5 |
| Convenience | 3/5 |
Delicious Indian street food classics
Great interior design
Small portions
No sit-down ordering
Bollywood Theater serves Indian street food classics and a few standard Indian dishes.
The menu is rather small in terms of the number of items, but it's well-designed. Try the Pav Bhaji, and you'll be in for a pleasant, flavorful surprise.
Given the nature of street food, portions seem rather small for the price. A couple of dishes can be shared between a few people if you add rice and naan.
They also have a small cocktail menu with beer and wine. Their own concoctions go really well with the food they serve.
As the name suggests, Bollywood Theater shows old Bollywood films as you sit in a spacious, open, and well-decorated interior. There are tables in their open but covered patio as well.
The dining here is best described as fast casual. Some might say the ordering is cafe style, which can be inconvenient if you want a sit-down dining experience.
You have to order from a small paper menu at the counter, grab your own glasses, and pour your own water from a carafe, and for any additional orders, you need to get back in line to order again.
Still, food comes out ready to eat sooner than later, and the staff members are friendly when you encounter them.
2. Swagat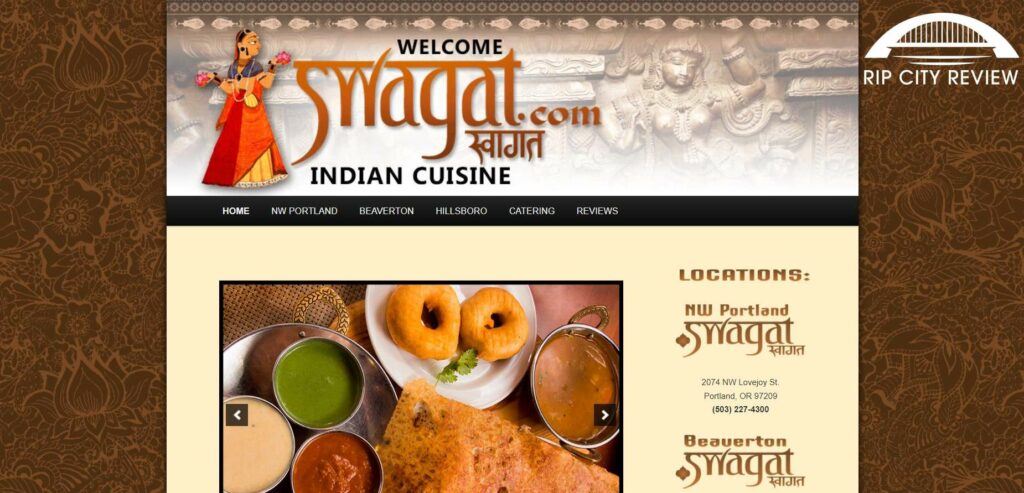 Specialties: Indian, Traditional Indian, Thali
Address: 2074 NW Lovejoy St, Portland, OR 97209
Website: https://swagat.com
Contact No.: (503) 227-4300
Operating Hours: Open daily, from 11:30 AM to 2:30 PM and 5 PM to 9 PM
| | |
| --- | --- |
| Google | 4.2/5 |
| Yelp | 4/5 |
| Total Reviews | 5/5 |
| Score Consistency | 4/5 |
| | |
| --- | --- |
| Quality of Food | 5/5 |
| Menu | 5/5 |
| Ambiance | 5/5 |
| Convenience | 4/5 |
Specializes in North and South Indian cuisine
Great vegan, vegetarian, gluten-free options
Delivery can be a miss
Pricey
Swagat Indian Cuisine specializes in traditional North and South Indian dishes. You can find your favorite Indian dishes on their menu, including many curries with different levels of spiciness.
Their specialty, however, is a range of handcrafted savory Indian crepes called dosas.
Dosas are made from lentils and are gluten-free.
They also have many vegan and vegetarian options that are just as exciting as the rest of their menu.
Customers say their cooking is as close to authentic as possible with delicious, deep, and complex flavors.
However, you may find their menu a bit pricier than what you would usually pay at Indian restaurants, but the servings are generous. The portions are big enough to share or take home.
A more affordable and value-for-money option would be their reasonably priced Thali lunches that allow customers to try a variety of dishes for a complete, filling meal.
The restaurant itself is spacious with many tables and is clean with a pleasant ambiance. Their servers are quite attentive and can help you navigate their menu should you have any questions.
You may be better off dining on-site. Their delivery services can be a miss with delays and missing items.
If they can improve on that, Swagat can better secure its spot as a top Indian restaurant in Portland.
3. Maruti Indian Restaurant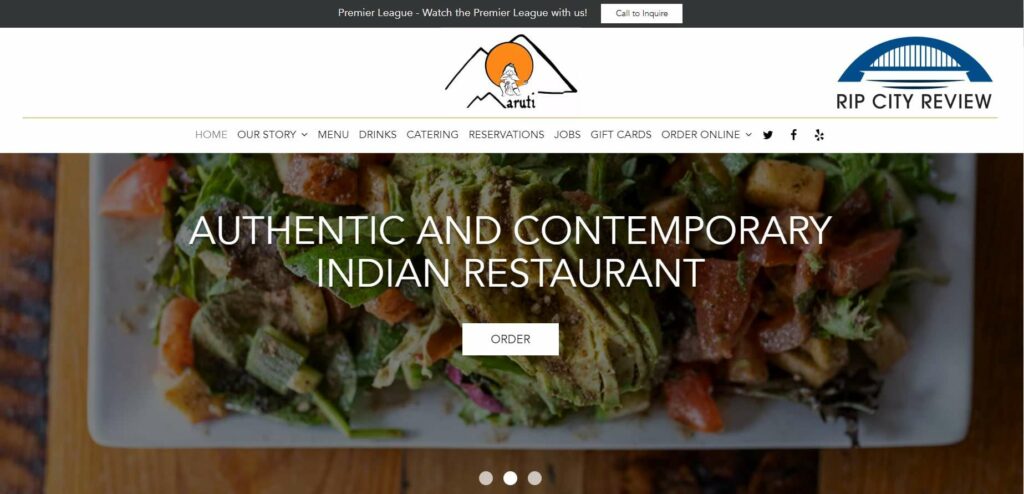 Specialties: Indian, Vegan, Vegetarian, Gluten-free
Address: 1925 SE Hawthorne Blvd, Portland, OR 97214
Website: https://maruti-restaurant.com
Contact No.: (503) 236-0714
Operating Hours: Wednesdays to Mondays, 5 PM to 8:45 PM
| | |
| --- | --- |
| Google | 4.7/5 |
| Yelp | 4.5/5 |
| Total Reviews | 5/5 |
| Score Consistency | 5/5 |
| | |
| --- | --- |
| Quality of Food | 5/5 |
| Menu | 5/5 |
| Ambiance | 5/5 |
| Convenience | 5/5 |
Healthy vegan/vegetarian Indian food
Welcoming ambiance
Very small dining space
Can be pricey
Maruti originated in Mt. Shasta, California, and later opened their Portland location. The founder had 20 years of experience in the restaurant industry before deciding to open her own restaurant with her husband.
Maruti isn't your typical Indian restaurant.
Their focus is on serving healthy but flavorful takes on classics using the best ingredients. You can't expect textures to be 100% the same, but think of it as a lighter take on your favorite Indian dishes.
It can be pricey, but considering the care they put into each meal, it may well be worth it.
Here, you can find a dairy-free tikka masala, and some dishes can be made without onion or garlic. If you have any food allergies, this is a great place to go for Indian food.
The dining experience itself is also relaxed and friendly. The service is great with their fun and polite staff.
At present, indoor dining is rather limited, and outdoor dining options are nonexistent.
The location is also quite small, so it can feel intimate or packed depending on the crowd. It's best to call in advance to place a reservation.
Parking is available out front as well.
The best part is you can also buy their jarred sauces to take home and incorporate into your own cooking.
If you're looking to maintain a well-balanced diet without skimping on flavor, try Maruti.
4. Dwaraka Indian Cuisine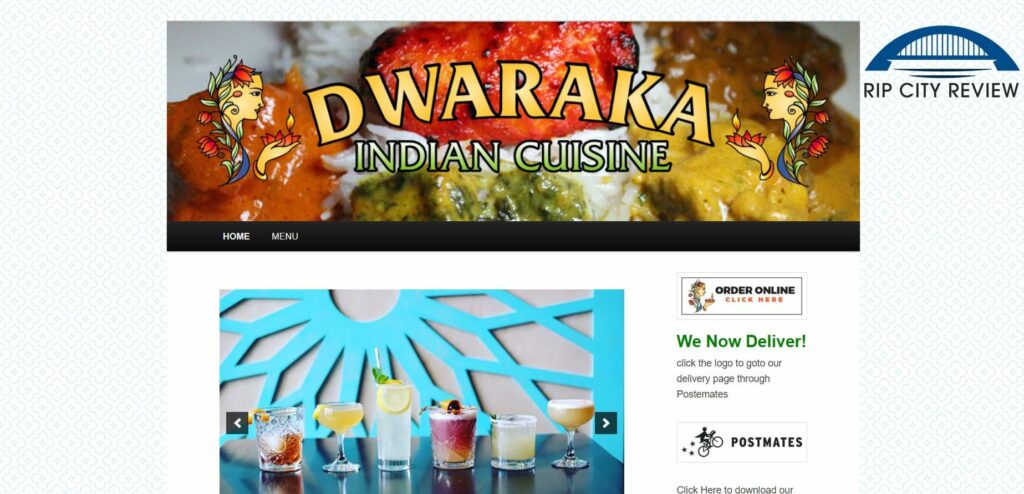 Specialties: Indian, Vegetarian, Bar
Address: 3962 SE Hawthorne Blvd Suite C, Portland, OR 97214
Website: http://www.dwarakapdx.com
Contact No.: (503) 230-1120
Operating Hours: Open daily from 3 PM to 8:30 PM
| | |
| --- | --- |
| Google | 4.3/5 |
| Yelp | 4/5 |
| Total Reviews | 4.5/5 |
| Score Consistency | 5/5 |
| | |
| --- | --- |
| Quality of Food | 4.5/5 |
| Menu | 5/5 |
| Ambiance | 5/5 |
| Convenience | 5/5 |
Indian food with a full bar
Fun, cool environment
Efficient delivery service
Food sometimes comes out too sweet
Not all dishes stand out
Dwaraka stands out from other Indian restaurants in Portland with their full bar and excellent delivery service.
Their happy hour gives you even better prices for their meals, although the generous portion sizes are already great for their regular prices.
If you do want to make the most of your dining experience, it's worth paying extra for the thali option.
Dwaraka is found in a fun but busy neighborhood, so parking can be a bit of a hassle.
It's best to come early if you want to dine in, and you'd definitely want to dine in.
The ambiance is fun and spectacular, especially if you're looking to drink. Their bar offers well-crafted cocktails as well as other staples.
Their delivery service won't disappoint you if you don't feel like going out. We love that they're consistently efficient with good packaging to make sure your food arrives intact.
You can also customize your dishes with their vegetarian options and adjustable spice levels. However, there were a handful of customers who said their food came out a little too sweet.
The menu has its standouts, but not everything is consistently spectacular. The kitchen may have its off moments, but we still think Dwaraka is a must-try.
5. The Sudra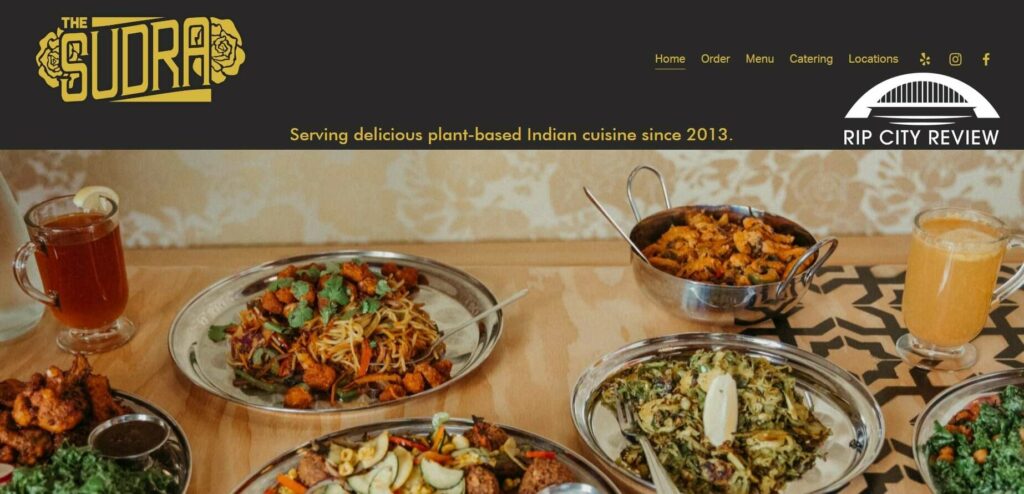 Specialties: Indian, Vegan, Bar, Specialty Cocktails
Address: 28 NE 28th Ave, Portland, OR 97232
Website: https://www.thesudra.com
Contact No.: (971) 302-6002
Operating Hours: Open daily from 12 PM to 9 PM
| | |
| --- | --- |
| Google | 4.5/5 |
| Yelp | 4/5 |
| Total Reviews | 5/5 |
| Score Consistency | 5/5 |
| | |
| --- | --- |
| Quality of Food | 5/5 |
| Menu | 5/5 |
| Ambiance | 4/5 |
| Convenience | 4/5 |
Plant-based Indian dishes
Dog-friendly outdoor dining space
More of Indian-inspired than authentic Indian
Tendency to be short-staffed
The Sudra is a lively plant-based Indian restaurant with a full bar. Its specialty cocktails pay tribute to Portland's buzzing bar scene, and the food is just as enjoyable.
To Portlanders, The Sudra is known more as a vegan restaurant than an Indian restaurant. They offer a plant-based menu with lighter Indian-inspired flavors rather than the bold and punchy flavors traditional Indian cuisine is known for.
On the menu, you'll see Indo-West and Indo-Chinese fusion dishes in addition to vegan versions of Indian favorites. The dishes are observably light and nongreasy with just the right level of spice.
Considering all this, this restaurant is a great introduction to both vegan food and Indian food for those trying either for the first time. Each item is delicious on its own but tastes even better together.
First-timers or those mindful of their food portions will appreciate that they have smaller size options on the menu.
As for the bar, there are many great alcoholic drinks and nonalcoholic options as well.
To order at The Sudra, you need to come up to the counter. Thankfully for any additional orders, you can use the QR code at your table.
Payment is also done at the counter.
Short-staffing can happen to any business, but this seems to reoccur quite a bit at The Sudra. They make up for it with how well they treat customers.
6. Tikkalicious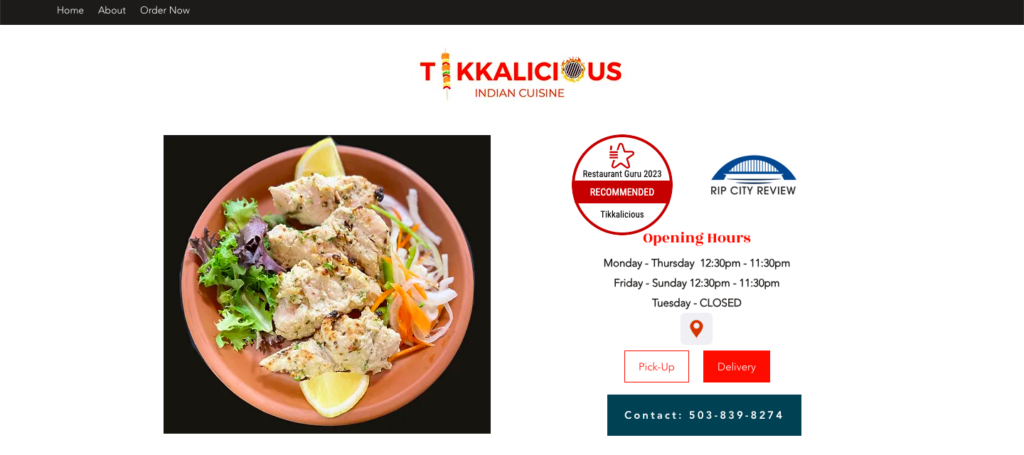 Specialties: Indian Cuisine
Address: 1125 SE Grand Ave, Portland, OR 97214, United States
Website: https://www.tikkalicious.com/
Contact No.: 503 839 8274
Operating Hours:
Monday – Thursday  12:30pm – 11:30pm
Friday – Sunday 12:30pm – 11:30pm
Tuesday – CLOSED
| | |
| --- | --- |
| Google | 4.6/5 |
| Yelp | 4.5/5 |
| Total Reviews | 4.5/5 |
| Score Consistency | 4.5/5 |
| | |
| --- | --- |
| Quality of Food | 4.5/5 |
| Menu | 5/5 |
| Ambiance | 4/5 |
| Convenience | 4/5 |
Uniquely Delicious Indian Cuisine
Experienced Chef
Flavorful and Balanced Spices
Good Portion Sizes
Tikkalicious offers a uniquely delicious experience for Indian food enthusiasts. We think their commitment to serving exquisite tikkas and authentic Indian dishes sets them apart.
The variety of dishes, including gobi Manchurian, chicken tikka masala, lamb biryani, and more, showcases their culinary expertise.
Chef Sreenath's extensive culinary experience, including serving authentic Indian delicacies in Portland for 14 years and his global gourmet chef background, adds a significant layer of authenticity and expertise to the restaurant's offerings.
Customers appreciate the balanced use of spices in Tikkalicious' dishes. Other reviews mention the deliciousness of daal makhani, kheema naan, chicken korma, and other items.
The ability to balance spices is crucial in Indian cuisine, and we think that Tikkalicious seems to excel in this regard.
The restaurant offers good portion sizes, ensuring that customers get value for their money. Their portions are great, which we think is important for those looking for satisfying meals.
We think their service is speedy, even when it's a holiday.
One thing about them though is they have limited seating since they only have a few tables, and is more of a pick-up place. This may be a downside for those who prefer a dine-in experience with a more extensive seating arrangement.
FAQs about Indian Restaurants in Portland