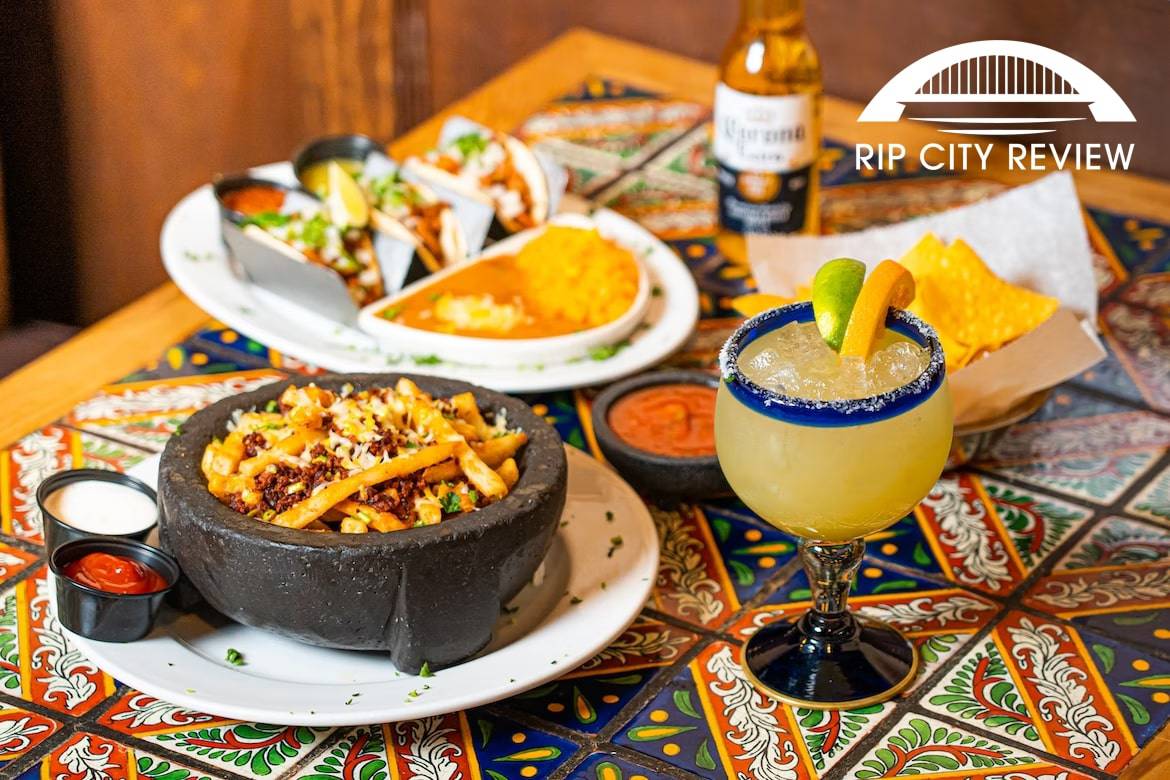 Top 5 Mexican Restaurants in Portland
How we picked
Quality of Food
We chose Mexican restaurants in Portland known for serving delicious Mexican food.
Menu
Classic Mexican dishes are a must on the menu, but creative innovations are also very welcome.
Ambience
We also considered how the physical environment and the overall mood of the restaurant affect a customer's dining experience.
Convenience
Is the service fast and reliable? Are they accessible? Do they deliver or do pickups? We chose restaurants based on these factors.
1. Guero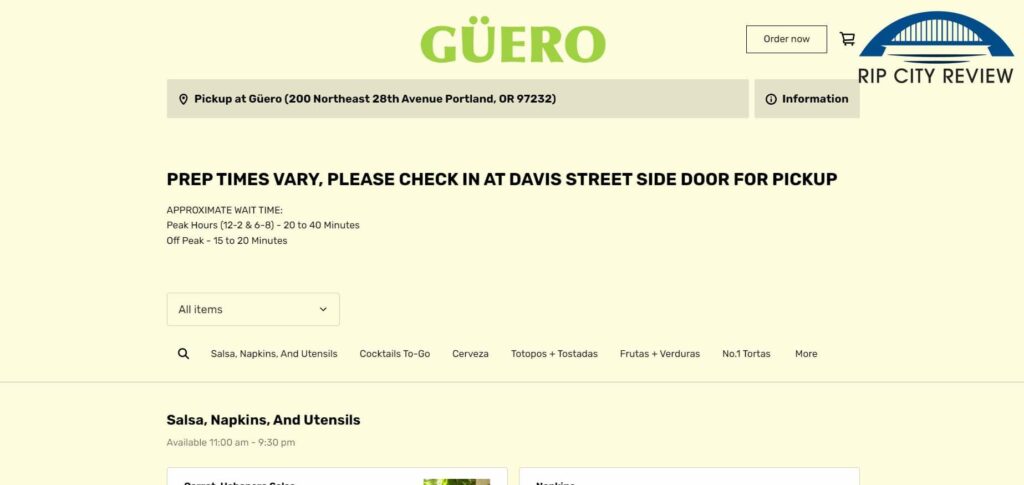 Specialties: Mexican, Sandwiches, Vegetarian Bowls, Cocktails
Address: 200 NE 28th Ave, Portland, OR 97232
Website: https://gero-no-1-tortas.square.site 
Contact No.: (503) 887-9258
Opening Hours: Open daily from 11 AM to 10
| | |
| --- | --- |
| Google | 4.7/5 |
| Yelp | 4.5/5 |
| Total Reviews | 5/5 |
| Score Consistency | 5/5 |
| | |
| --- | --- |
| Quality of Food | 5/5 |
| Menu | 4.5/5 |
| Ambience | 5/5 |
| Convenience | 5/5 |
Best tortas in town
Locally sourced ingredients
Not exactly traditional Mexican cuisine
A bit pricey
Guero is a chill spot where you can enjoy great food and have beers and cocktails too.
They specialize in the Mexican sandwich torta, a fluffy bun packed with delicious fillings.
Guero takes pride in using locally sourced ingredients for their tortas and vegetarian bowls, so you can expect fresh quality in every bite.
Guests can enjoy their meal for dine-in, takeout, and even no-contact delivery.
They also have approximate wait times on their website for peak and off-peak hours so you know how long you have to wait when ordering for delivery or pickup.
They have a bright, open interior that feels like home and a cute patio. Upbeat music will keep your energy up as you eat your meal and chat with friends or a loved one over cocktails and cervezas.
Their tortas are also big enough to be shared by two if you're not that hungry. While these are priced just right, you might find their sides and other menu items a bit more expensive than what you're used to.
Some customers say Guero isn't exactly traditional, but their elevated take on combining authentic Mexican flavors might make you want to reconsider.
2. Nuestra Cocina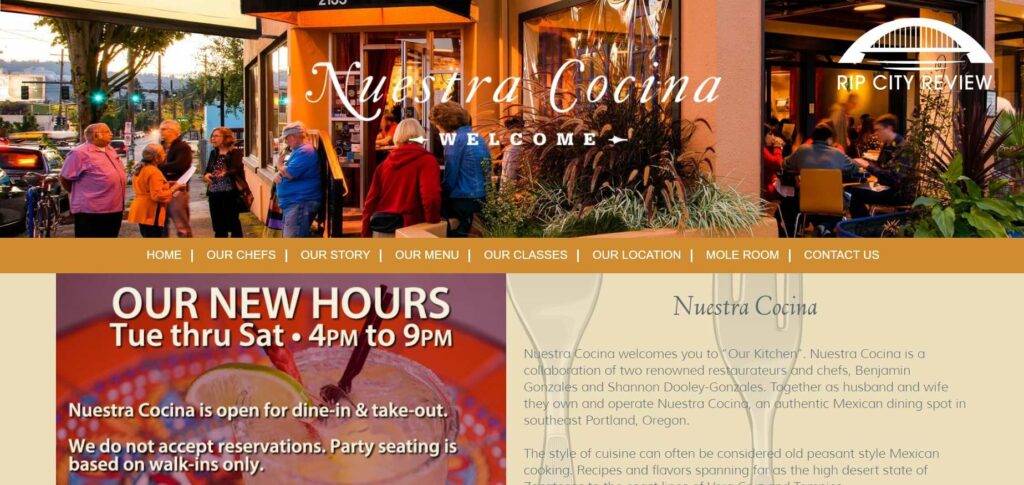 Specialties: Mexican, Tortillas, Sangrias, Drinks
Address: 2135 SE Division St, Portland, OR 97202
Website: https://nuestracocina.com 
Contact No.: (503) 232-2135
Operating Hours: Tuesdays to Saturdays, 4 PM to 9 PM
| | |
| --- | --- |
| Google | 4.7/5 |
| Yelp | 4.5/5 |
| Total Reviews | 4.5/5 |
| Score Consistency | 5/5 |
| | |
| --- | --- |
| Quality of Food | 5/5 |
| Menu | 5/5 |
| Ambience | 5/5 |
| Convenience | 4.5/5 |
Authentic Mexican Food
Tasty, well-crafted drinks
No reservations
Servings a bit small for price
Nuestra Cocina or "Our Kitchen" is a warm, homey Mexican restaurant and bar that serves authentic Mexican food in Portland. They describe their style of cuisine as "old peasant-style Mexican cooking," with culinary influences from all across Mexico.
What makes the restaurant great is that the owners are also the chefs. They care and are deeply involved in making sure you have an all-around experience.
One key offering of Nuestra Cocina is their in-house tortillas.
Every night, their señora de la tortilla prepares over 30 pounds of masa so guests can enjoy hot and freshly made tortillas with their meals. The tortillas are hand-rolled and pressed using a press made and handed down by the chef's grandfather.
In addition to serving delicious, authentic meals, the overall experience at Nuestra Cocina is completed by their dedicated staff, great selection of music, and cozy and inviting ambiance—indoor or outdoor on their patio.
In their long run as a restaurant, some regulars note that prices have gone up and servings seem smaller than before. Still, they continue to deliver with flavor.
To ensure the quality of their meals, they're only open from 4 PM to 9 PM from Tuesdays to Saturdays.
They're also strictly on a first-come, first-served walk-in basis and don't accept reservations. Make sure to come early or opt for pickup and takeout instead.
3. Por Que No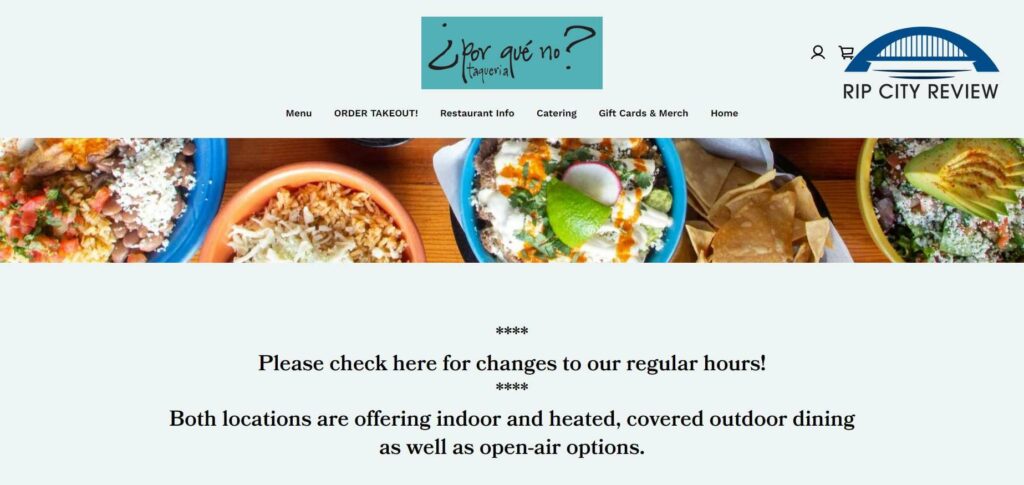 Specialties: Mexican, Tacos
Address: 4635 SE Hawthorne Blvd, Portland, OR 97215
Website: https://porquenotacos.square.site 
Contact No.: (503) 954-3138
Operating Hours: Mondays to Saturdays, 11 AM to 10 PM; Sundays, 11 AM to 9:30 PM
| | |
| --- | --- |
| Google | 4.6/5 |
| Yelp | 4/5 |
| Total Reviews | 5/5 |
| Score Consistency | 5/5 |
| | |
| --- | --- |
| Quality of Food | 5/5 |
| Menu | 4.5/5 |
| Ambience | 5/5 |
| Convenience | 5/5 |
Fresh, tasty Mexican staples and drinks
Fast service
Great ambiance and dining experience
For a taqueria, the tacos aren't their best item
No reservations
Por Que No is a small but magnetic Mexican restaurant that draws attention for their tacos and other Mexican staples.
Indoor and outdoor dining is available for both locations, and you can also call or order online for pickup.
Unfortunately, they don't take reservations, so bear that in mind when you want to try Por Que No.
If you're not looking to sit down and dine, it's best to order ahead. Otherwise, expect a 20 to 30-minute wait, especially on weekends.
Long lines can come right around the corner, but don't let that intimidate you.
The line moves pretty fast. You will also pass by a bar where you can order a drink while you line up for food.
Inside, the meticulously decorated interior reminds one of Mexico.
On fair weather days, you can enjoy your favorite Mexican staples in the open-air dining area. If it's rainy, there's an outdoor area that's heated and covered.
Por Que No may be a taqueria by name, but the tacos aren't the star of the show.
Each on their menu is said to have its own charm, but most customers highly recommend Bryan's Bowl. You can have it made vegan, plus there are many vegetarian options to choose from.
Although it's not necessarily traditional Mexican, customers agree that their food is tasty, fresh, and reasonably priced.
4. Tortilleria y Tienda De Leon's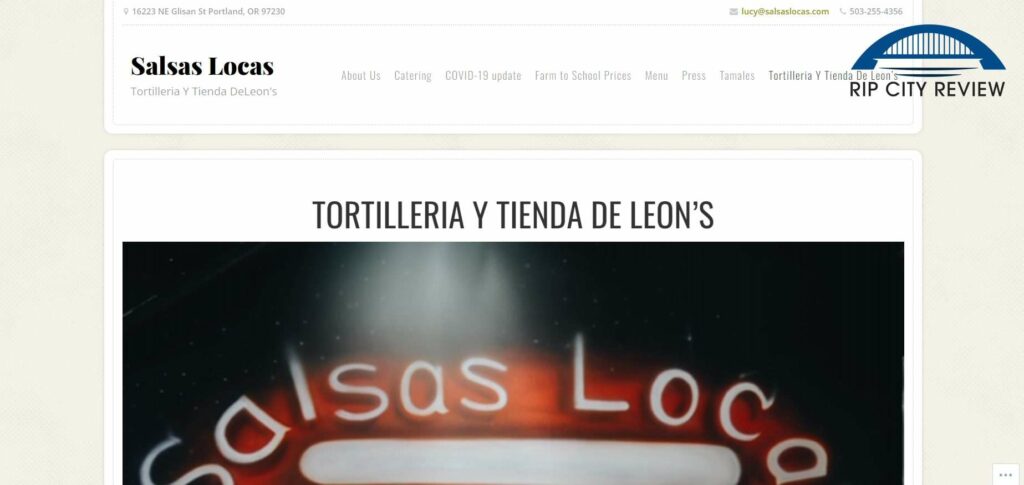 Specialties: Mexican, Deli, Tortillas, Salsa
Address: 16223 NE Glisan St, Portland, OR 97230
Website: https://salsaslocas.com 
Contact No.: (503) 255-4356
Operating Hours: Open daily from 10 AM to 6 PM
| | |
| --- | --- |
| Google | 4.6/5 |
| Yelp | 4.5/5 |
| Total Reviews | 4.5/5 |
| Score Consistency | 5/5 |
| | |
| --- | --- |
| Quality of Food | 5/5 |
| Menu | 5/5 |
| Ambience | 3/5 |
| Convenience | 4.5/5 |
Authentic Mexican food 
Family-owned local business
Limited dine-in
No delivery
If you're looking for authentic Mexican food that hasn't been Americanized, you can find it behind this Mexican grocery store. They specialize in homemade tortillas, salsas, and other foods that simply take you home.
These fresh and hot flour and corn tortillas can be made into their 1 1/2-pound burritos with the meat of your choice—pork, chicken, and beef.
They also serve a wide selection of traditional Mexican dishes and other favorites such as tamales, rellenos, guisados, and tacos. Food is served fresh, hot, and flavorful.
Customers can personally get a taste of their family recipes in this humble grocery store.
However, dine-in is limited, as there are only small tables in the deli.
There are also no delivery options, so you have to make the drive all the way to the periphery of Portland.
While the location isn't central to the city, you may find it worth going all the way to enjoy a real, homemade Mexican meal.
As a family-owned grocery and tortilleria, the aesthetics are minimal, but customers are greeted with quality food and warm, welcoming service.
Order from the deli, and enjoy your meal wherever you please.
5. La Cocina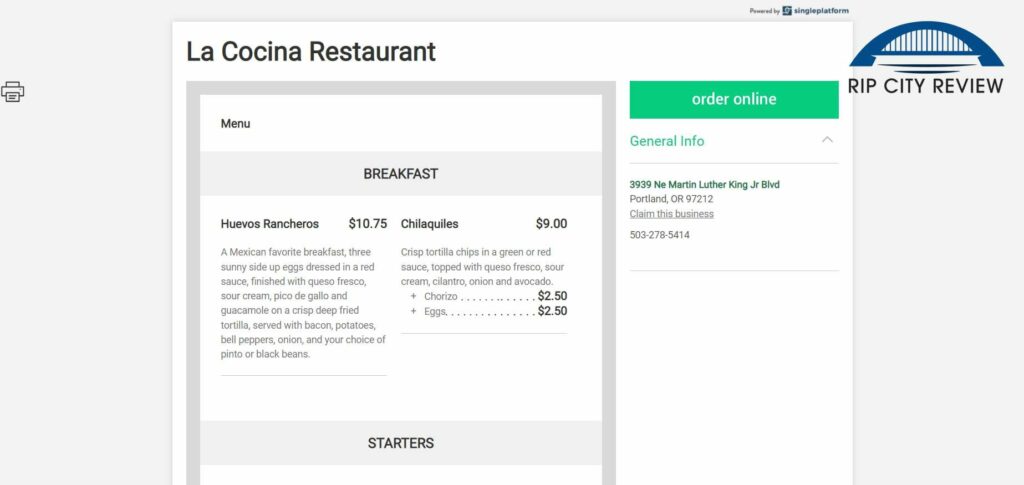 Specialties: Mexican, Traditional Mexican, Breakfast
Address: 3901 N Williams Ave, Portland, OR 97227
Website: http://places.singleplatform.com/la-cocina-restaurant-17/menu
Contact No.: (503) 278-5414
Operating Hours: Open daily from 11 AM to 9 PM
| | |
| --- | --- |
| Google | 4.4/5 |
| Yelp | 4/5 |
| Total Reviews | 4.5/5 |
| Score Consistency | 4/5 |
| | |
| --- | --- |
| Quality of Food | 5/5 |
| Menu | 5/5 |
| Ambience | 4/5 |
| Convenience | 4/5 |
Fun and flavorful food 
Vegan and vegetarian options
Indoor seating not yet available
Everything comes in to-go containers
La Cocina is a laid-back Mexican restaurant with traditional favorites such as tamales, fajitas, enchiladas, and moles.
We love how these dishes are fun, incredibly flavorful, wonderfully complex, and beyond your standard fare. You will also surely get your money's worth with their huge portion sizes.
They also have outstanding vegetarian and vegan options. La Cocina serves an amazing mushroom ceviche, which isn't really available elsewhere.
The restaurant itself is cute and well-decorated. The great choice of music and tasteful decorations also add to your enjoyment.
However, you may want to level your expectations with the dining experience.
Ordering here is cafe-style, as you have to line up and make your decisions at the counter. This may be a problem if you're the type to take your time with the menu before coming up with a decision.
You're encouraged to come in ready to order.
Once you've placed your order, a speaker system will announce if it's ready for pickup.
Everything comes in to-go containers, even dine-in, so it's easier to take leftovers out, but it can throw some people off.
Due to pandemic restrictions, indoor seating is not yet available at La Cocina. You can have your meal on their outside patio, weather permitting.
FAQs for Mexican Restaurants Portland